New Subscribe Banner Available with Metered Paywall update
Click play to LISTEN to the article below
Our-Hometown's engineers are always working behind the scenes to improve the selection of tools we've made available to publishers, and this week they've released an update to our Metered Paywall that introduces a brand new feature: the ability to use your Metered Paywall as a Subscribe Banner in lieu of an actual countdown meter.
This new Subscribe Banner can be used to advertise a special promotional offer or just to provide an easy-to-find button for unregistered readers to start a subscription.
Until now, our Metered Paywall functioned strictly as a countdown meter tracking how many "Free Articles" a visitor has left to read before they are forced to subscribe with a paid membership. Once a user had used up all of their "Free Articles", the Meter would disappear and the reader would see the traditional prompt to Login or Subscribe to continue reading.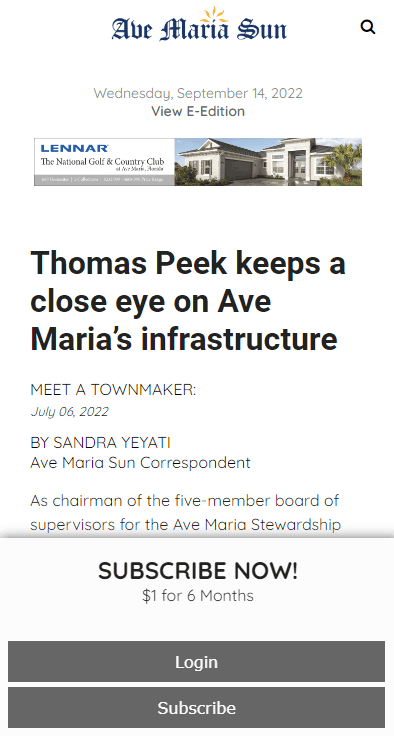 The new Subscribe Banner replaces the Metered Paywall and has two major differences:
It, of course, does not provide a countdown of "Free Articles" for a reader. Instead, it is intended to advertise a special promotional offer to grab the readers attention and prompt them to subscribe.
The Subscribe Banner displays at all times when a user is reading an article while not logged in, where as the previous meter would disappear once a a users was out of free views.
This new feature offers publishers some more flexibility when deciding how to configure their paywall settings and introduces a new method for converting guests into paid subscribers.
Please email ops@our-hometown.com if you're interested in setting up a Subscribe bar and we'll help get your promotional offer displayed ASAP!
In addition to the new Subscribe Banner option, the following changes were made to the Metered Paywall:
Ability to add an alternate message when readers run out of free reads.
Ability to display the Paywall Meter even when the reader is out of free reads. (Previously, meter would disappear).