SEO Features on the Our-Hometown Web Platform
Click play to LISTEN to the article below
The Our-Hometown web platform utilizes the All in One SEO plug-in to provide a convenient interface to manage many aspects of the search engine optimization for your website.
All in One SEO Setup
All in One SEO provides a convenient wizard to guide you through the initial setup process, prompting for information about your website, including metadata, contact information, social links, and search appearance.
All in One SEO Dashboard
Step-by-Step: All in One SEO Setup Wizard
The following is a walkthrough of the setup process utilizing the wizard.
---
All in One SEO Quicklinks
This set of links from the dashboard provide more advanced and granular control of how the plugin handles your website's content. These same links can also be found in the All in One SEO submenu.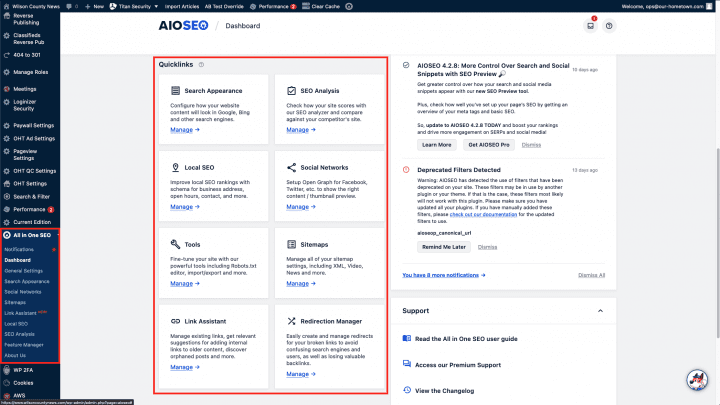 Search Appearance
These settings affect how your content will appear on major search engines, such as Google.
Social Networks
These settings affect how your content will appear on major social networks, such as Facebook, Twitter, YouTube, and Instagram.
SEO Analysis
If you provided an email address in Step 6 of the setup wizard, you will have access to the SEO analysis tools provided by the plug-in. Note that from the plug-in dashboard in the support panel you will find a link "Relaunch Setup Wizard" if you want to be led through the initial setup again.
On this page you will be shown an Overall Site Score based upon the results of its Checklist. You can filter items on the checklist by All, Important, etc. By then clicking on the arrow to the right of each listing you can see the current status and choose to edit a particular setting directly from the recommendation.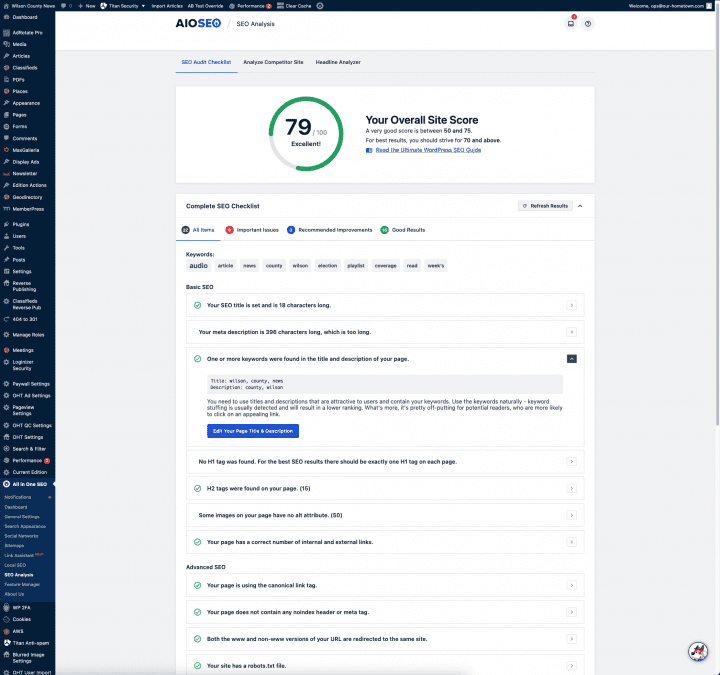 ---
SEO Management Per Article
The most common options for customizing SEO are available in the Lite version of the plug-in. In particular, you may Focus Keyphrases or provide an alternate Title, Description, Excerpt or Featured Image apart from those in the article being shared.
Under this tab you can change how your article snippet will appear in contrast to the default settings established in the setup wizard or via the Search Appearance quicklinks on the main plug-in dashboard.
For the article and meta description, you can use the provided tag variables or simply type your desired text into the appropriate field.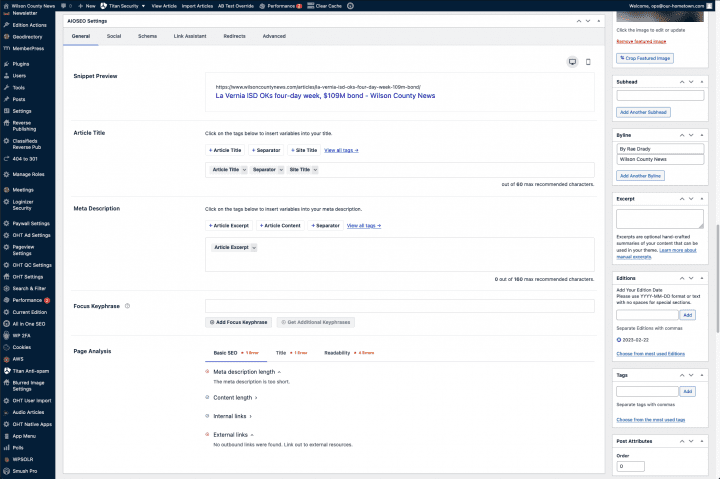 A very important SEO feature that is also set here is a Focus Keyphrase. In the Lite version of All in One SEO, you are allowed only a main keyphrase, while the PRO version allows you to enter additional secondary keyphrases. 
According to the plug-in documentation on keyphrase usage:
This feature is especially helpful when writing blog Posts where you may write about a primary subject (Focus Keyphrase) as well as secondary terms (Additional Keyphrases).
It's not as useful for Pages of your site which may have multiple focuses for this content, or where the content is generic such as a Contact Us page.
Start by entering the primary subject you're writing about in the Focus Keyphrase field and click the Add Focus Keyphrase button.
You will also see our recommendations for improving your on-page SEO beneath each keyphrase and in the Page Analysis section.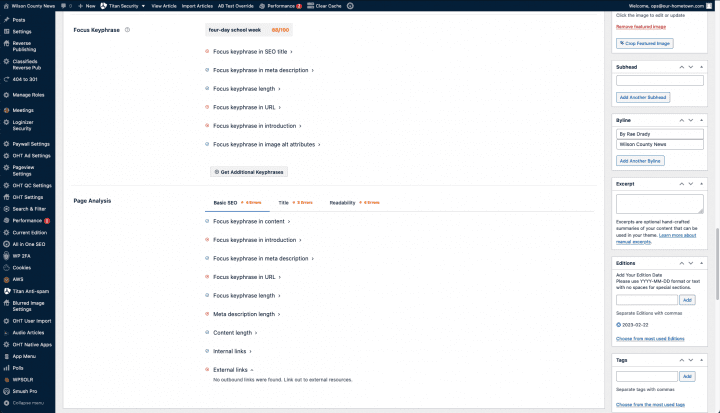 The Page Analysis section provides three categories of recommendations: Basic SEO, Title, and Readability. This final sub-tab is quite informative with analyses of passive voice, transition words, sentence length, etc.
All in One SEO social settings such as Title, Description and Image Source can be modified from their defaults under the Social tab.
If you have any questions or would like assistance, please reach out to our customer support team at ops@our-hometown.com.