SEO for Newspapers LIVE WEBINAR set for March 17th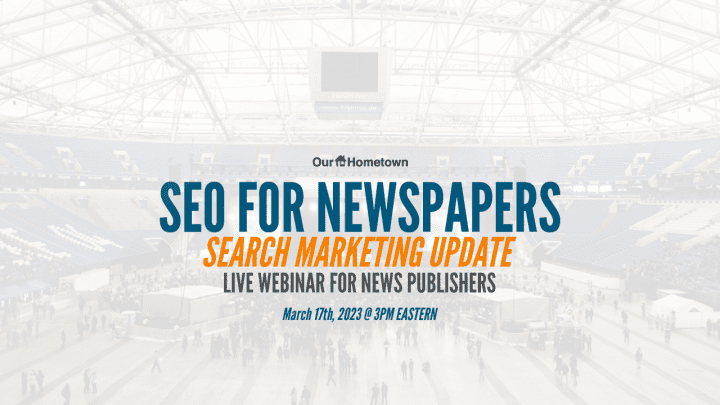 Click play to LISTEN to the article below
Our-Hometown is excited to announce that our friend and industry expert Michael Cottam will be joining us on March 17th, 2023 to host a LIVE WEBINAR on SEO For Newspapers!
The presentation will focus on Search Engine Optimization for news publishers and will highlight various techniques for optimizing your website's structure and content in order to improve visibility and ranking on popular search engines.
Michael will also cover several new topics since last year's webinar, including helpful content and spam updates from Google, as well as a look at AI-generated content and how it may effect search results.
For newspaper publishers, practicing strong SEO techniques is essential for remaining competitive in the digital age. With so much content available online, it can be difficult to stand out and attract readers to your site. By implementing some of these techniques, you can ensure that your website is optimized to appear at the top of relevant search engine results, making it easier for potential readers to find your content.
Attendees will have the opportunity to ask questions, share their own experiences, and network with other publishers in the industry. The cost of attendance is a small fee of $25 per person, which includes access to the live webinar, as well as a recording of the session for later viewing upon request.
Our-Hometown customers and members of our partnered Press Associations are eligible to attend for free. Just designate your affiliation during registration to activate the discount!
Don't miss this opportunity to learn about the importance of SEO for newspaper publishers and gain practical tips for implementing strong SEO techniques on your website. Register below to secure your seat today!
Register Now
---