10 Ways to Increase Subscription Revenue in 2023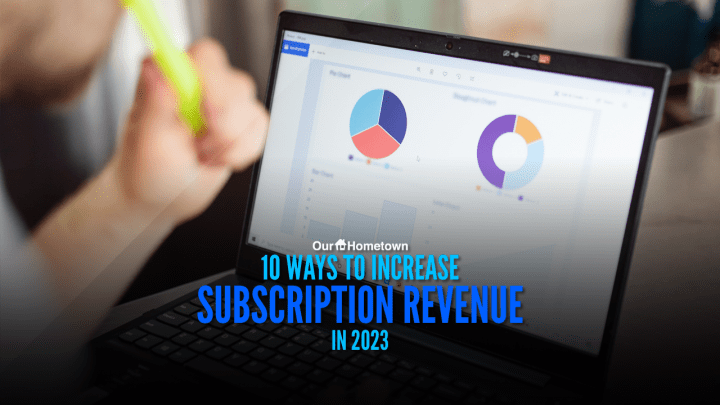 Click play to LISTEN to the article below
Although the newspaper industry has changed dramatically in the past several years, we're still facing many of the same challenges that have plagued publishers for decades. Namely: declining subscriptions.
We wanted to help our customers start the new year off on the right foot by offering several simple methods publishers can use to increase subscription revenue in 2023.
Below are 10 Ways to Increase Subscription Revenue this year:
1. Combo Subscriptions
It is no secret that the traditional print newspaper is on the decline. While the older generation may continue to cling to the physical product, most readers prefer to consume their news digitally these days.
In some households, a Combo Subscription may provide the perfect balance. Mom and Dad can still enjoy reading the newspaper during their morning coffee, while the kids can stay up-to-date on the latest school closings via your website's Breaking News newsletter.
Price the combo subscription higher than either a standalone Print or Digital Subscription, but lower than if someone were to subscribe to both separately.
2. Print Subscription Upgrades
Piggybacking on the Combo Subscriptions idea, you also might consider offering online access to any readers with an existing offline subscription via the use of a Print Upgrade option.
Our Print Upgrade Membership offers a solution for readers to verify their active print subscription in order to gain matching online access, either for free or for an additional charge.
The more print readers that you can convert to digital readers, the better.
3. QR Codes
QR Codes have become a very effective tool in the realm of advertising and reader engagement. These days, nearly everybody is walking around with a smartphone in their pocket that can quickly scan a QR code and take them to a specific webpage or application.
Use this to your advantage!
You could come up with some creative marketing ideas involving QR codes that link back to your website. You can even have the QR code direct readers to a special, limited-time offer for a subscription at a discounted price, and advertise the offer at news stands and pickup locations where your publication is distributed.
Speaking of discounts…
4. First Year Discounts
Offering discounts to first-time subscribers is always a great way to cultivate readership. People will always take advantage of the opportunity to try out a service before committing to the full price.
Consider offering a 1 Year Subscription to New Subscribers at a 25% discount (for example).
Whether you are using Auto Renewing Subscriptions or One-Time Payment memberships, our platform allows you to offer first-year discounts to new subscribers by adjusting just a few settings.
5. First Month Discounts
Just like First Year Discounts, offering first-month discounts is another tried and true method for growing your subscriber base and increasing your subscription revenue.
A person buying a full year subscription to your newspaper will probably already have a decent idea of what to expect from your publication, but of course there will also be readers who just simply aren't going to shell out for a full year subscription without trying it out first — no matter how big the discount on the annual membership is.
That is what makes Monthly Subscriptions a great tool, especially when combined with a First-Month Discount. For example, if your monthly subscription is priced at $8/month, it wouldn't be unreasonable to offer a promotion where readers get the first month for just $0.99.
Monthly subscriptions are almost always set up as Automatically Renewing subscriptions, so once a reader has subscribed for the first month at $0.99, they will automatically be renewed at the standard $8/month price point until they cancel their subscription.
If you price your monthly subscription strategically so that twelve month-to-month payments is more expensive than a single full-year payment, you will quickly make back any money you lost on the first-month discount and more!
6. Coupon Codes for Newsletter Subscribers
Many publications on our platform utilize our Newsletter package in order to send out New Edition Notices, Breaking News Updates, and other marketing material.
While the majority of folks receiving these emails are already paid subscribers, you'll also likely have several folks who have signed up for the newsletter just to get the headlines, but have not actually committed to a paid subscription.
You can target these readers by including Coupon Codes and special offers inside of the newsletters you send out to help entice them to take the plunge and pay for a subscription.
7. Don't forget your Ex-Subscribers
Hey, nobody likes a break-up.
It is never a fun thing to lose a subscriber. It can be a tough pill to swallow to know that a reader no longer finds your hard work and content worth the price of a subscription.
But we've all heard the saying: "Don't cry because it's over. Smile because it happened."
All of those former subscribers of yours, at one point, did find your content worth the price of a subscription — and that makes them incredibly valuable leads to target with discounts and special promotions in hopes of enticing them to restart their subscription.
Try targeting some of your former subscribers with some special offers and see if a discount is enough to earn back their loyalty!
8. Expand Your Brand
Another way to attract new readers is to expand your brand by offering new products and features to your readers. For example, you may consider adding Audio Articles to give your readers the ability to listen to the news on the go, or publish a Business Directory that readers can visit to find information about local businesses.
Many publications have found success launching a weekly or monthly Podcast alongside their standard printed edition, and others have even began producing in-house video content to help modernize their digital product.
9. Get Busy on Social Media
Social Media remains one of the most powerful tools for quickly sharing news and information within a community, which can essentially become free advertisement for a newspaper if your story is being shared widely.
The great thing about social media is that while you might think your content is only relevant to members of your own community, you may come to find that readers nationwide or even worldwide are interested in what you've published, and were able to find your content via social sharing.
Always share your content as much as possible on social media, and ask your readers to do the same!
10. Contests and Giveaways
Contests and giveaways can be handy tools for soliciting subscriptions as well. How many times have you signed up for a newsletter you had no interest in or re-tweeted a tweet from an account that you wouldn't normally follow — just to enter some sort of giveaway?
Consider applying this same concept to your newspaper.
Many publications already host contests throughout the year to create engagement with readers and the community. We've seen photo contests, trivia contests, and plain old giveaways hosted on our websites, often supported by community sponsors.
If your publication is in a position where you're able to host contests and giveaways, occasionally with prizes donated by a local business or sponsor, you could limit participation to newspaper subscribers.
If you have a particularly popular contest or a particularly attractive prize, you may see a boost in new subscriptions as folks throughout the community subscribe for a chance to win.
These are just a few simple methods any publication can use to generate additional revenue this year. If you have any questions or would like to discuss executing any of these strategies on your website, just email our support team at ops@our-hometown.com at any time!