Changing the "Sender Name" for your Newsletter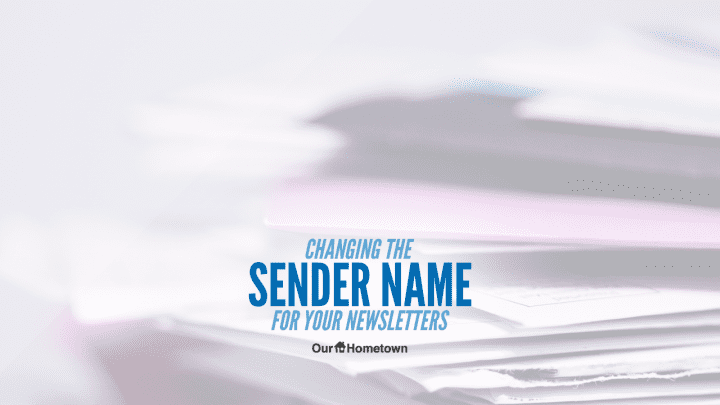 Click play to LISTEN to the article below
Our-Hometown's WordPress Publishing Platform features a great Newsletter plugin for sending weekly newsletters, breaking news updates and other e-mails to customers who've joined your mailing list or subscribed to your publication.
Thanks to some feedback from some of our customers, our engineers recently released a new update that allows any staff user with the Editor role on the website to change the sender name for your newsletter at any time.
Previously, changing the Sender Name for your newsletter required creating a support ticket and waiting for our staff to address your request. This was because the Settings page for the Newsletter plugin contains several sensitive settings that could disrupt your website's e-mail service if misconfigured, and access is therefor restricted to Our-Hometown staff.
But now, you can update your Sender Name at any time by navigating to the Newsletter Dashboard when logged in with your staff account and finding the Settings -> General Settings link on the menu across the top of the page. Here you'll find a simple text box where you can type in what should show as the sender for subscribers who receive your e-mail.
This might sound like a small change, but it does have some important applications.
For example, our friends at The Wave produce a daily newsletter highlighting the day's top stories under the moniker, "Rockaway's Beachcomber Daily Newsletter." However, when their weekly printed edition publishes online every Thursday evening, they prefer that the e-mail notice sent to subscribers is being sent from "The Wave" — not "Beachcomber Daily" — so that readers know exactly what content they can expect inside.
Now, they're free to change the sender name as needed to deliver their unique newsletters to different sets of readers, with a different "From Name" shown to the reader.
As always, if you have any questions or feedback, drop us a line at ops@our-hometown.com!