East Aurora Advertiser podcast episode exemplifies use of audio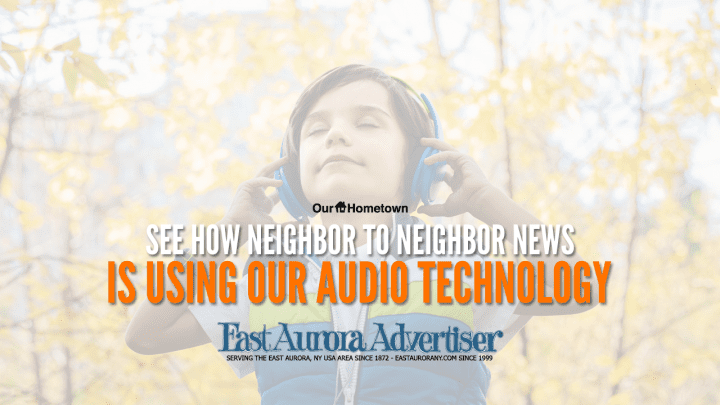 Click play to LISTEN to the article below
Last week, Grant Hamilton of Neighbor-to-Neighbor News — the publishing group behind the East Aurora Advertiser and several other community newspapers in the Western New York region — published a new podcast episode that we feel perfectly exemplifies the use of audio technology in the news publishing world.
(You may remember Grant from the Industry Interview we published just a couple of weeks ago, where he detailed his experience with our platform and his vision for the future.)
Grant authored his article in a first-person point of view, knowing that this particular piece of content would only be published to the newspaper's podcast where it would be listened to rather than read. This technique results in a more personal listening experience.
We wanted to share this content with our own readers for two reasons: 1.) It is an excellent and creative use of our audio technology to produce unique content catered specifically towards podcast listeners, and 2.) The message Grant delivers in this episode is important and should be considered by all news publishers!
CLICK HERE TO LISTEN to the full episode on the East Aurora Advertiser's website. If you're listening on Our-Hometown.com, Grant's article will begin next.
---
Reflections on 149 Years of the Advertiser – Part 1
As the East Aurora Advertiser marches each week toward it's 150th anniversary, I thought I'd offer my thoughts on community journalism as it is today. I'm Grant Hamilton and I've been an owner-publisher for 40 of those 149 years. And in the interest of full disclosure, the words are mine but the voice you are hearing is "Matthew," a computer generated audio transcription of my text.
I chose to initially pass these thoughts on with this technology for a reason. Journalism, and perhaps more important, community journalism, is about tradition.
It is about the importance of maintaining "newspaper standards" in journalism. Fairness, accuracy, unbiased reporting and the recognition of the need to acknowledge our errors and correct them are some of the standards. We operate with a fairly long list of journalistic ethics to follow.
But why would I talk about tradition and traditional "newspaper standards" yet present these thoughts with podcast technology? Simply because those newspaper standards need to apply regardless of the manner in which content is presented to our community. At the Advertiser we love our printed newspaper. However we understand that many in the community receive their news in other forms. It is important that we meet the newspaper standards on our websites, newsletters, podcasts and whatever may come next.
In the area of tradition, when asked how long I've owned "the paper" I like to respond that I've had custody of the Advertiser for the last forty years. There have been just three publishers in the last 100 years. Alfred P. Spooner and his father R. John Spooner preceded me. I like to think that continuity has been good for the community.
For the most part our staff and contributors live in the towns we serve. Many graduated from the local high schools. Over the years some have come and gone and come back. Others have used their community newspaper experience to explore other avenues. Sandra Cunningham has earned the "most tenured" award in the company, joining the Advertiser in 1981 in the front office and is now Vice President and General manager.
It is hard to know what will come next as technology continues to alter communications – for good or not. At the Advertiser and our sister newspapers in nearby communities, we strive to use technology to succeed at our mission.
Our mission is "to enhance the quality of life in the communities we serve by bringing people together to celebrate their achievements, share in their sorrows, effectively self-govern, collectively solve problems and create a shared sense of community in order to "leave the place better than they found it."
That may sound a little corny in today's world, but I did warn you community journalism is about tradition.
Next, I'll talk about what has been predictable, if not preventable, in the changes in the newspaper industry and why "newspaper-standards journalism" can survive in the future.
And by the way, you can just hit the pause button whenever you've heard enough.
I'm Grant Hamilton, publisher, and you are listing to Matthew, a computer-generated audio form of my text. Matthew isn't perfect, but then again, neither am I.