LIVE Webinar: ChatGPT for Content Generation to take place on May 18th
April 13, 2023

/

AI, General, Industry News, Latest from Our Hometown, News, Newsletter, Study, Upcoming Virtual Conferences, Virtual Conferences, Websites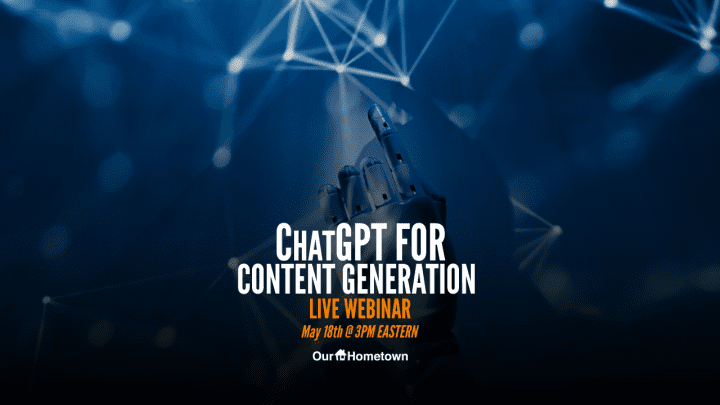 Click play to LISTEN to the article below
Our-Hometown, Inc. is excited to announce that we'll be hosting another LIVE Webinar, "ChatGPT for Content Creation" next month on May 18th, beginning at 3PM Eastern time.
The presentation will focus on the popular A.I. language model "ChatGPT" and how news publishers can take advantage of the powerfool tool to create valuable content for readers.
As the saying goes, "With great power comes great responsibility." Despite the mind-blowing capabilities of ChatGPT, there are some limitations, including some instances where it has returned inaccurate information. It is ultimately up to the end user to proofread and fact-check any AI-generated content.
If you're interested in learning more about using ChatGPT for Content Generation, you can register by filling out the short form below.
Registration for the event is priced at $25, but Our-Hometown customers and members of our partnered press associations are invited to attend for free. Just select your Press Association from the drop-down list, or select "Our-Hometown Customer."
We can't wait to see you there!
---