Local newspaper for sale in Wallis, Texas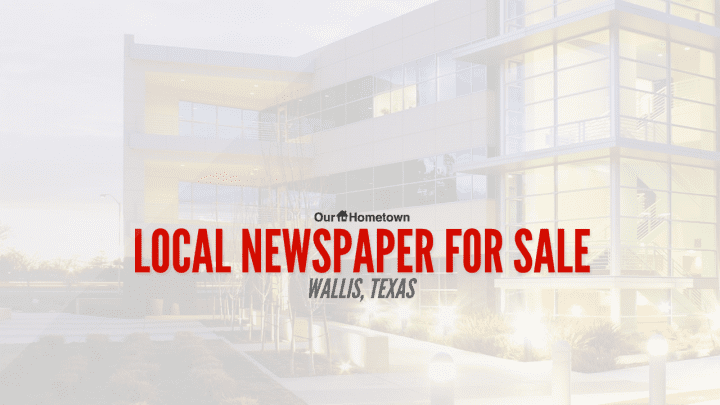 Click play to LISTEN to the article below
A member of Our-Hometown's neighborhood of publishers is seeking new owners as The Wallis News of Austin County, Texas has been listed for sale by owners Joanie and Johnny Griffin.
Please view their sale ad below and reach out using the contact information provided if interested!
---
NEWSPAPER FOR SALE
Weekly newspaper for sale located in Wallis, Texas in Austin County. The Wallis News-Review was started in 1974 and continues coverage of one school district, city and county government and local news. The city is small, but development is coming to the area from the east because of its close proximity to Houston, Katy and Rosenberg. This is a good newspaper serving its readership of approximately 2000 with only 2 employees. Offered for sale are faithful readership and lots of good will. There is no real estate. One of the cities covered has offered free office space. The present owners purchased the business in 2006 and are retiring on June 3, 2021. They would like to offer the paper for sale for a minimal amount. Please call 979-398-0706 for more information regarding the sale.