REPLAY: Disaster Prep for Newspapers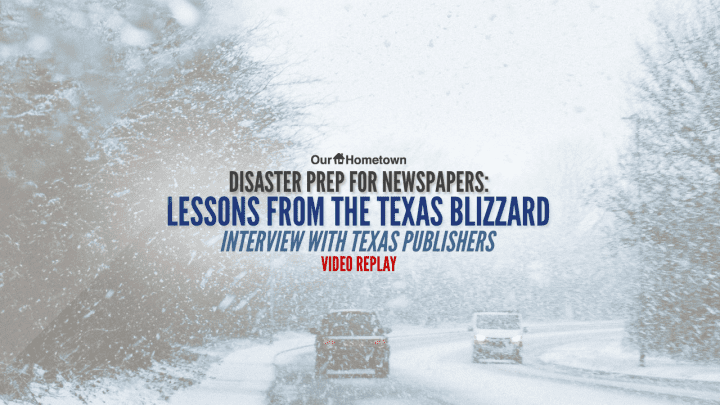 Click play to LISTEN to the article below
Back in February, the state of Texas was hit with a rare winter storm that brought snow, bitter cold temperatures and slick, icy roads to residents unaccustomed to such conditions. Power grids across the state failed due to the high usage of heat and energy, ultimately leaving as many as 3.5 million Texans without heat or power for several days.
Caught in the middle of all of this were the local and regional newspapers forced to abruptly halt production due to blackouts, lack of resources, and the inability to travel due to the dangerous conditions. Even those newspapers who were able to piece together an edition still faced the reality that their printers and delivery drivers may not be available.
Our-Hometown invited representatives from three of our Texas-based publications to join us for a special live webinar on Disaster Prep for Newspapers last week to discuss the impact each of them felt due to the storm, and how they can be better prepared in the future.
Kristen Weaver of the Wilson County News, Gloria Resma from the Uvalde Leader News, and both Mary Judson & Dan Parker of the Port Aransas South Jetty were kind enough to accept and share their insights.
Check out the full-length webinar replay below!
For many publishers across Texas, the storm highlighted the importance of being prepared for disaster scenarios, and made them consider what they can do differently to allow themselves to continue reporting the news during similar events in the future.