Our-Hometown to present at the 2021 Illinois Press Association Convention this morning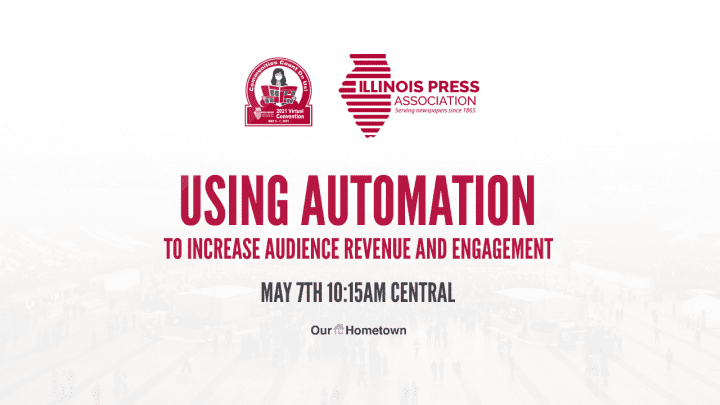 Click play to LISTEN to the article below
Our-Hometown President & CEO Matthew Larson will be giving a live presentation on USING AUTOMATION TO INCREASE AUDIENCE REVENUE AND ENGAGEMENT later this morning at 10:15 AM CST as a part of the 2021 Illinois Press Association/Foundation Convention.
The annual convention is being held virtually this year via the Zoom video conferencing platform, and members of the Illinois Press Association are invited to attend all of the day's events for free by registering here.
A description of Matthew's presentation as provided by the IPA's website is below:
"With resources stretched thinner than ever, it's never been more important for newsrooms to focus on automation, wherever possible. In this session, Matt will describe some of the turnkey ways publishers are automating marketing and content creation on Our Hometown's WordPress Platform. He will discuss auto-renewing subscriptions, newsletter marketing, auto-publishing to social media, computer generated audio content, and how to automatically turn your newspaper into a podcast."
We hope to see you later this morning! If you're not able to attend, don't worry! Keep an eye on our Virtual Conferences page for details on any upcoming webinars (TBA soon), as well as replays and recaps from many past events that Our-Hometown has hosted or participated in.