The Virginia Press Association's "Digital Initiative" with Our-Hometown
August 20, 2021

/

Audience, General, Industry News, Latest from Our Hometown, Media, News, Newsletter, Office Hours, Revenue, Websites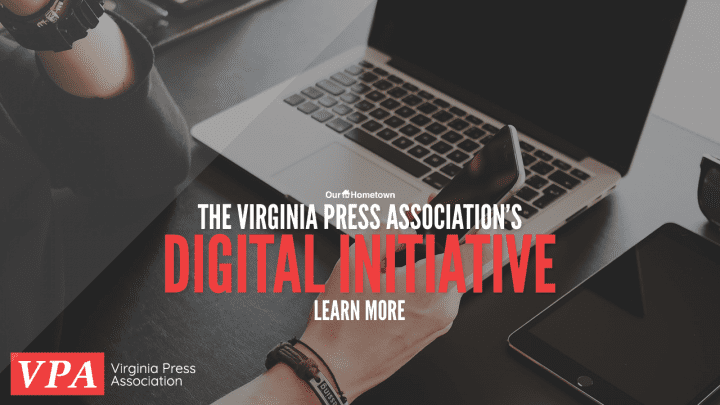 Click play to LISTEN to the article below
Last year, Our-Hometown partnered up with the Virginia Press Association to launch our first Digital Initiative — a program aimed at getting all newspapers under the Virginia Press Association's umbrella on the web with a turnkey digital revenue model.
Many local newspapers, especially those covering smaller towns and communities, are still relying entirely on a printed newspaper funded by local advertisers, having neglected to take the next step of launching a website at all. Others have websites, but often with little current content and almost no consistent presence on social media.
The Digital Initiative intends to provide each newspaper with a modern responsive website on our platform — a first, for many — along with our vast selection of tools to help grow their audience and expand their digital footprint once the website is live.
These tools include brand new sources of revenue like Digital Subscriptions and Digital Advertisements — we even have our own Ad Network — and tools used to distribute your content to new readers, such as the Newsletter or Social Media Autopost tool.
Our partnership with the Virginia Press Association includes a significant first-year discount on our services in order to help publishers get their feet under them and gain some momentum in terms of traffic and subscribers, as well as a LIFETIME VPA Member Discount on our normal rates, available on our quote calculator.
Rachel Flaherty, the VPA's Digital Services Manager, offered her thoughts on the program:
"We felt this was a need for many of our members and wanted to provide them with an easy and sustainable solution. Newspapers are vital for communities and remain the most trustworthy and relied-upon source for local information. Partnering with Our-Hometown allows each paper to create a customized website that's simple to use and will provide new sources of revenue as well as various opportunities to grow their audiences. We're looking forward to expanding this program and seeing the impact for our members involved with our Digital Initiative program."
We hope to launch similar programs with other press associations in the future as we've already seen great success for several VPA members, including the Virginia Star and the Amelia Bulletin Monitor.
If you're interested in seeing what we can do for your Press Association, please reach out to us by emailing ops@our-hometown.com!