Using your website to supplement your print edition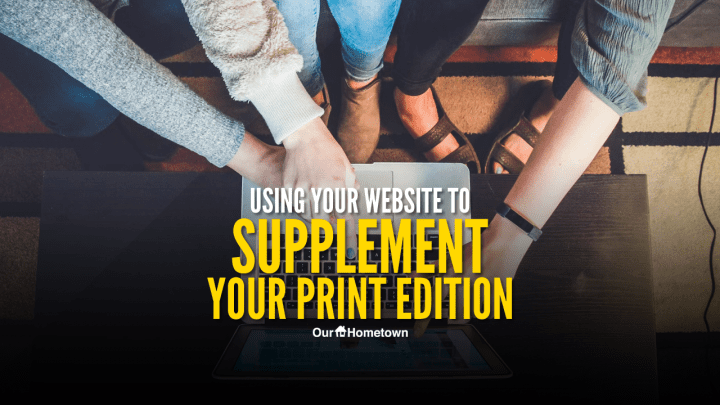 Click play to LISTEN to the article below
When speaking with news publishers about the value of offering a digital alternative to the printed newspaper, we're often asked how the website can add value to their product.
Sure, there are the obvious advantages on the newspaper's end, such as new streams of revenue from digital subscriptions and online advertisements, but publishers want to know what advantages readers can expect.
The key is using your website to supplement your print edition rather than simply acting as a clone of the newspaper. If readers can find the same identical content in both places, there is little benefit to paying extra for a Print + Online Combo subscription, or switching to a Digital Subscription outright.
Below are a few ways you can use the website to supplement your print edition so that your customers can get the best of both worlds.
Photo Galleries
Your printed newspaper is limited by space. The more content you want to include in print, the more pages are required — and the more pages that are required, the higher the production the costs. This can result in difficult decisions when determining which content to include with an article in the print edition.
The website, of course, doesn't have these limitations. This creates an opportunity for publishers to include additional content online that is exclusive to the digital version of the story.
Photo Galleries are a great example of this line of thinking. You may only have room for one or two photos from a major local event in the print edition, but you can create an entire photo gallery online without needing to worry about space.
Check out our NextGEN Gallery plugin introduction for help with creating photo galleries!
Inserts & Special Sections
Another way to add value to your digital product is to include special inserts, documents and Special Sections on the website as well.
Special sections are popular with advertisers, so putting them online exclusively is probably not realistic, as we wouldn't want to alienate any advertisers — but it is still a handy feature for digital subscribers to be able to browse through past special sections.
More importantly, though, is the ability to include additional documents and materials inside of a particular article. For example, you may have an extensive .PDF document that you want to include with a story about a court case, but that just isn't possible in the print edition. Online, though, it is as simple as adding a link in the story.
Click here for more on Publishing Special Sections and Setting Up A Carousel!
Reader Engagement
Another important technique for adding value to the digital product is to offer opportunities for readers to engage with the website or with each other.
A Comments & Discussion section is a great first-step, allowing readers to comment and share their thoughts on articles. However, Facebook and other social media platforms have rendered comment sections obsolete in some communities; so you don't want to rely on comments alone.
Polls, Surveys & Contests are another way to invite readers to engage with the website. If you've published an article about a particularly divisive topic, consider adding a Poll to the article to gain a little more insight into how your readers feel about it.
Inviting readers to participate in themed Contests throughout the year, such as voting on the best local Halloween or Christmas decorations, is another technique that has proven successful for our publishers.
Click here to learn more about setting up Polls or Contests!
Reader Resources
A final technique for enhancing the value of a digital subscription is to offer Resources for online readers.
Traditionally, submitting things like Classified Ads, Obituaries, and other life announcements can be a cumbersome manual process. However, your website can simplify the entire process with a simple online order form that automatically collects payment from the reader and forwards the relevant information to your staff.
Our Reader Resources package takes this idea a step further by introducing an Event Calendar and Business Directory that readers will find useful when properly maintained.
While many of these resource are offered to print edition readers as well, the website makes the entire process much easier. You could even get creative and offer a discount on classified ads to digital subscribers, or similar promotions.
Learn more about Reader Resources here!
---
When it comes to using your website to enhance your print product, the sky is really the limit. These are just a few of the techniques we've seen practiced on our platform, but as technology continues to advance, the possibilities are endless.