5 Easy Ways to Grow Your Mailing List!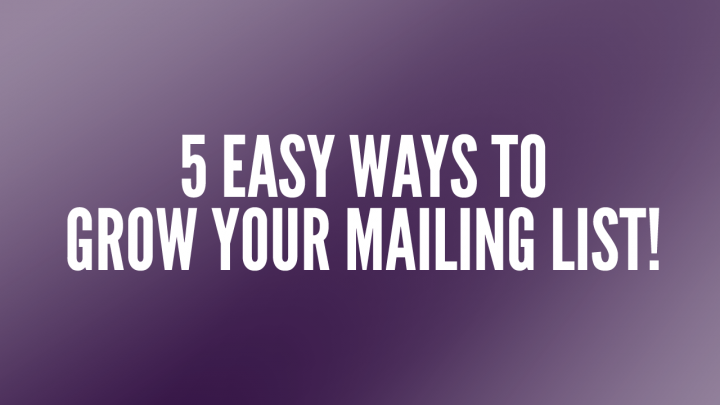 Click play to LISTEN to the article below
Your newsletter is an important tool for generating revenue on your website. Using newsletters to consistently reach your readers is not only a great way to keep them coming back to your site, but it is also a great way to attract advertisers. If you have a large enough mailing list, advertisers will be competing for your real estate and you won't have any trouble selling ads in your newsletter to create an additional revenue stream. But you're probably wondering, "What if my mailing list isn't that big?"
Below are 5 Easy Ways to Grow Your Mailing List!
1. A Newsletter Signup Form
The first, and most obvious, method for growing your mailing list is to place an attractive, easily-visible sign form on your website to entice readers to join the mailing list. You could put this newsletter form on your website's sidebar, in the footer area, or even in the article itself using a post-injection ad — just make sure it is somewhere that readers will be able to see it. Make note of what kind of e-mails your readers will receive: daily/weekly edition notices, breaking news updates, special offers & coupons, etc.
As a customer of Our-Hometown, your website came pre-equipped with a Newsletter Signup widget on your homepage.
2. Require Free Account to Read Content (Registration Wall)
Many newspapers are dropping their Paywalls as a result of the ongoing COVID-19 Pandemic, allowing their readers free access to important news and information published to their website. And while dropping the paywall almost certainly results in higher readership, that doesn't necessarily translate to any more money for your publication. The readers visiting your site for free, without an account, will reap the benefits until the paywall is restored, and then who knows — maybe they'll subscribe, or maybe they'll forget about you and never come back.
The Registration Wall is a great solution to this problem. You are still offering all of your content for free, but users will have to create an account to access it. When they create an account, they are added to your mailing list. Additionally, when you're ready to turn your Paywall back on, you'll have a list of "Free Accounts" that you can target with special offers and discounts to convert them to paid subscribers.
3. Require Free Account to Comment
The premise here is similar to the above: Any time a user creates an account on your website, they'll need to enter an e-mail address which is then added to your mailing list. Usually, this means that Paid Subscribers are added to the mailing list as part of their subscription, but the same principle is true for Free Accounts.
Requiring your readers to create a Free Account to comment on articles is a great way to generate more registrations, which in turn means a larger mailing list for your newsletter.
4. Contests
Contests and giveaways are a fun and creative way to catch readers interest and procure e-mail addresses for you mailing list.
Consider a weekly Trivia Question where readers can submit their answers, along with their name and e-mail address, for a chance to win a prize. The prize doesn't really matter — it could be a free subscription to your website, or a gift certificate donated by a local restaurant — whatever you think might grab your readers attention. Of course, in order to submit their answer and win the prize, the reader must agree to join the mailing list.
There are other contests you can run as well.
The Bee Newspapers have ran a "Find the Fake" contest in the past, inviting readers to scour their classifieds section and identify the classified ad that is just a little to obscure to be real. If a reader correctly identifies the "fake" ad, they are awarded the prize.
You could do something similar and have readers submit their answers through a form where their e-mail is collected and later added to the mailing list.
And last, but definitely not least:
5. Promote in Print!
You should always promote your website in the print edition so that readers know where to go for updates or more information, but this is especially true if you are trying to grow your mailing list.
You want as many visitors as possible coming to the website, but sometimes that means giving them a reason to come:
Point out that newsletter subscribers will receive occasional offers and discounts.
Invite readers to create an account to join the discussion online.
If you have to promote a special contest in the print edition to get more visitors on the website, do it!
These are a just a few very easy techniques to generate some extra newsletter subscribers on your website. If you'd like to share your own ideas, feel free to e-mail us at ops@our-hometown.com — we'd love to hear from you!