Don't forget to upgrade to Google Analytics 4
February 2, 2023

/

Dashboard alert, General, Industry News, Latest from Our Hometown, News, Newsletter, Office Hours, Press Release, Revenue, Websites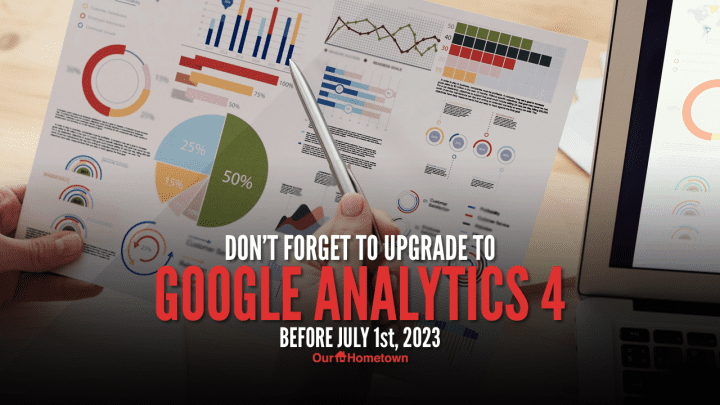 Click play to LISTEN to the article below
As technology continues to evolve, it's important for businesses to stay up-to-date with the latest tools and platforms. In the world of web analytics, this means making the switch from Google Analytics Universal to the new and improved Google Analytics 4.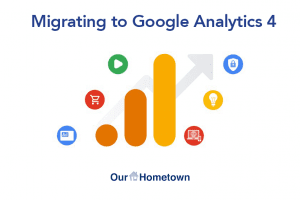 As you may already know, Google Analytics Universal is being phased out and will stop processing new data on July 1st, 2023. This means that it is essential for you to upgrade to Google Analytics 4 by then to ensure that your website continues to track and analyze data accurately.
What's different about GA4 compared to Universal?
For starters, GA4 offers a more holistic approach to data tracking. It takes into account the various ways customers interact with your website, including through their mobile devices and offline activities. GA4 also provides more advanced analysis features and the ability to set up custom conversion events, making it easier to understand the impact of your marketing efforts.
A few notable features are highlighted below:
Cross-device and cross-platform tracking: GA4 enables you to track user behavior across devices and platforms, giving you a more comprehensive understanding of your audience.

Enhanced machine learning capabilities: GA4 uses machine learning algorithms to automatically detect and highlight important insights in your data, saving you time and effort in analyzing your website's performance.

Improved data privacy: GA4 includes features to help you comply with data privacy regulations, such as GDPR and CCPA, giving you peace of mind that your website is secure and in compliance.

User-centric data: GA4 allows you to view data in a more user-centric manner, giving you a better understanding of how individual users interact with your website.
Another advantage of GA4 is the integration with Google's other products, such as Google Ads and Google Tag Manager. This allows for even more granular tracking and insights, helping you make data-driven decisions to improve your online presence.
Remember, Google Analytics Universal will stop processing new data after July 1st, 2023. If you are currently using Google Analytics Universal, you'll need to upgrade to Google Analytics 4 before then.
We want to help make this transition as smooth as possible for you. If you need assistance setting up GA4, we're here to help. Simply send us your GA4 code, and we'll place it in your website header for you.
We also have a walkthrough for the steps to setup a GA4 account if you don't have one and where to find the code that we need to place on your website.
Don't wait until it's too late. Upgrade to GA4 today and take advantage of the powerful insights it has to offer. If you have any questions or need assistance, please don't hesitate to reach out to us.