Feature Highlight: Social Media Autopost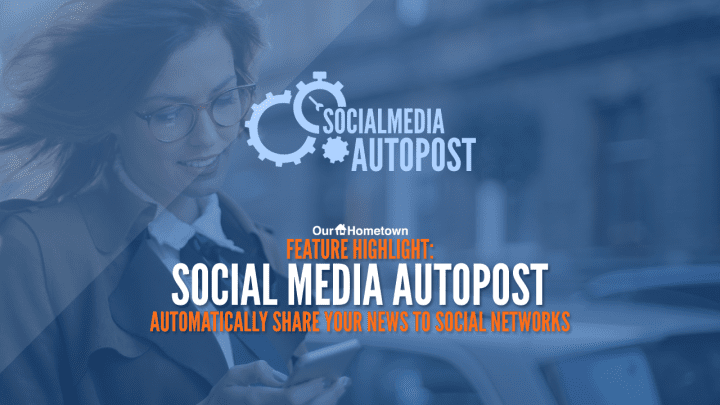 Click play to LISTEN to the article below
One of the exciting new features we introduced in 2021 is our Social Media Autopost tool, which instantly connects your website with your publication's various social media profiles and allows you to quickly and easily share your content with followers on all of your favorite networks.
The tool serve several purposes. The primary objective is to increase traffic to the website by sharing content often and directing readers back to the source article on your website. In most cases, more traffic will mean more revenue.
The secondary objective is to simply continue growing your audience, which will happen organically as your followers share your stories with their friends in the community. In today's world, a properly executed social media strategy can grow your readership and brand recognition tremendously.
While the idea of sharing your important news and updates to social media isn't exactly groundbreaking, the Social Media Autopost tool speeds up the process by allowing you to share to multiple networks at once with a single click.
Better yet, the settings are fully customizable and can be adjusted to suit your workflow.
For example, you can configure the tool to share your articles automatically when they are published, saving yourself the time and effort.
Alternatively, if you're going to be publishing several articles at the same time and don't want to bombard your followers with new posts on social media, you can set up a schedule to space out your content. Posting several times a day on social media is a good way to keep traffic coming throughout the day, as opposed to making a single post or a few posts within a short timeframe.
How does it work?
Now that you know all about what the Social Media Autopost tool does and what to use it for, you're probably wondering how it works.
The setup is very simple.
You'll simply log in to each of your social media networks through the plugin to grant the website permission to share content via that profile or page.
(In most cases, you'll be sharing content to a "Page" rather than a personal profile. Make sure the account that you link the website with has admin access to the "Page" you want to share posts to.)
Once your profiles are set up, it is a simple as setting up your publishing schedule or choosing the automatic option, and toggling which networks you want to share your new content with.
If you have any questions or want to enable this feature on your website today, send an email to ops@our-hometown.com and ask! Social Media Autopost is available for $10 per month.