How Reverse Publishing can help you in 2023
January 26, 2023

/

Content, Design, Feature Highlights, General, Industry News, Latest from Our Hometown, Media, News, Newsletter, Websites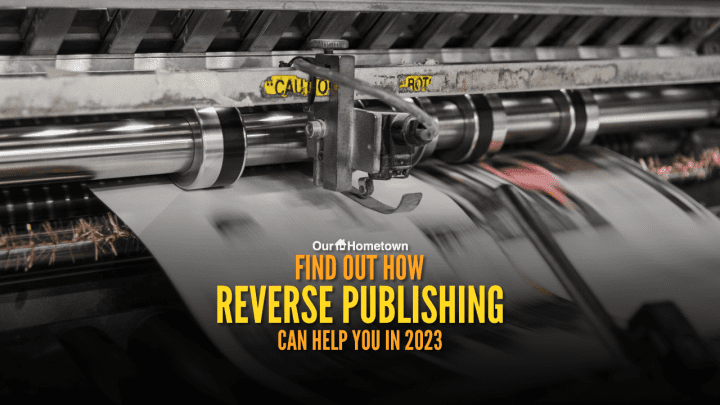 Click play to LISTEN to the article below
At Our-Hometown, Inc. we understand the challenges that newspaper publishers face in today's digital landscape, having assisted in combating these hurdles for over two decades. This experience has helped us to develop revolutionary features like our Reverse Publishing tool, which allows news publishers to easily compile, edit and publish their articles on the web before exporting them to InDesign or other layout software to prepare the print edition.

Our Reverse Publishing software streamlines the entire production process, making it easier for publishers to create and distribute content across all platforms. With Reverse Publishing, newspaper publishers can enjoy the following benefits:

Increased Efficiency: By publishing articles on the web first, publishers can get their content out to readers faster, increasing the speed at which they can respond to breaking news and events. This also allows for more flexibility in terms of layout and design.

Improved Collaboration: Reverse Publishing allows multiple editors to contribute to the same article, regardless of location. This makes it easier for publishers to collaborate and share ideas, improving the overall quality of their content.

Better Audience Engagement: With Reverse Publishing, publishers can easily insert multimedia elements like videos, images and interactive graphics into the web version of articles, making them more engaging for readers. This can lead to higher engagement and more page views.

Cost Savings: Reverse Publishing eliminates the need for publishers to duplicate their efforts by allowing them to publish content once and then export it for print. This can save time and money, allowing publishers to invest in other areas of their business.

Enhanced Analytics: Our platform provides publishers with detailed analytics on their articles, allowing them to see how they are performing and make data-driven decisions on what to include in the upcoming print edition.

At Our-Hometown, Inc. we are dedicated to providing newspaper publishers with the tools they need to thrive in the digital age. Our Reverse Publishing software is just one example of our commitment to helping publishers succeed. If you're a newspaper publisher looking to streamline your production process and improve your online presence, contact us today to learn more about how our platform can help you!