JournalTrib.com wins Best Large Weekly Website in North Dakota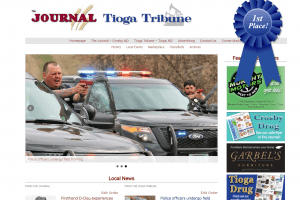 We are proud to announce that JournalTrib.com has won this year's BEST WEBSITE for the "Large Weekly" category in the North Dakota Better Newspaper Contest.
We met Cecile Wehrman, publisher of The Journal, Crosby and Tioga Tribune, at the National Newspaper Association convention last year and she was looking for help.  She was tired of her current website, but not in a big rush to change.
After we spoke, and she met with Rex at Spark Digital Sales, the revenue model became clear.  Her plan was to launch a new website with autorenewing digital subscriptions and sell rotating digital ads on the right column of the site.  Suddenly, the priority of the website increased.
Shortly after meeting, we began working closely with Cecile to redesign her website exactly as she imagined it on our platform.  We also began scraping the PDF and posting the articles in HTML each week so she didn't have to spend the time copying/pasting from InDesign to the site.  Finally, we began monetizing the content with autorenewing digital subscriptions.
Cecile has said many times how she "was very pleased with how quickly Our Hometown was able to get this off the ground, literally within 45 to 60 days of meeting Matthew at the convention".  Check out the site, it's a beautiful example of what is possible on the Our Hometown WordPress platform.