Kevin Slimp: Why I Joined Forces with Our-Hometown to Train Community Newspapers Online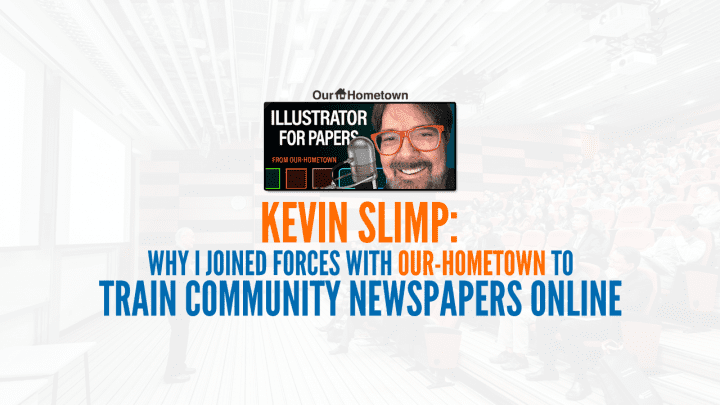 Click play to LISTEN to the article below
Don't tell anyone, but I must be older than I look. I started offering online training long before most people knew such a thing existed. 20 years ago, I worked with a production company in Indianapolis that hosted and produced my monthly webinars for newspapers. It was quite the production.
My favorite part of each webinar was when the announcer would introduce me by saying, "And now, coming to you from his LAVVISSSHHH studio in Knoxville Tennessee…where the sun is shining, and the temperature is 78 degrees…it's the news guru himself, Kevin Slimp!." I paid dearly for their help, but it was the only way to offer webinars at the time.
It was about a year or so ago when I first heard from Matt Larson, CEO of Our-Hometown. Matt reminded me we had met at some conventions in the past. I believe he mentioned the New York Press Association Convention as one of them. Matt was interested in the webinars I was offering to newspapers each month.
His question was, "Could Our-Hometown sponsor your webinars, so our members could attend or free?"
I offered a couple of options. Press Associations often sponsor a webinar for their members by paying a discounted fee for each person who attends. Another option was to offer discounted rates for Our-Hometown customers who wanted to register on their own.
"No," Matt explained, "I'd like all of our customers to attend all of your webinars for free. Our-Hometown will foot the bill."
I was impressed with Matt right away. I've had quite a few software companies, online vendors and others offer to sponsor my speaking engagements and webinars in the past, but I always said, "No thanks." But when I talked with Matt, I could tell that he really cared about his customers and wanted to offer this to them, just for being Our-Hometown customers. He didn't ask anything from me in exchange, except to teach his customers.
We worked out an agreement. Instead of each newspaper paying the usual $69-$99 fee for a webinar, Our-Hometown newspapers would attend at no cost to them. It was a win-win-win for Our-Hometown, me, and all the newspapers that would attend.
Let me be frank: Individual newspapers pay me hundreds of dollars to lead a webinar just for their papers. Some papers pay several hundred dollars each month for me to lead a monthly online training session just for their papers. Press Associations sometimes pay thousands of dollars for me to lead special sessions for their members. Although it might not (or might) seem like a big deal, the training offered through Our-Hometown is not like free training you'd find searching around online. It's developed for community newspapers just like yours.
I'm glad that so many of you have taken Matt up on his offer. This month, on November 12, I'll be offering a session on the Basics of Adobe Illustrator for Newspapers.
Why would you and your staff want to learn how to use Adobe Illustrator? I can give you a few reasons:
You've already got it. It comes with the monthly fee you're already paying to Adobe for Creative Cloud Software.
It's much better for designing logos, Illustrations, and other artwork than InDesign or Photoshop.
Illustrator has a lot in common with InDesign, so with a little training you can immediately begin creating artwork.
Users can open logos and other artwork in Illustrator, trace it, and have vector artwork that can be printed in any size without losing quality.
When creating signs, banners and other artwork that's printed by vendors, Illustrator creates vector artwork, which is what vendors almost always request.
You can open vector artwork (EPS files) you already get from your clipart/art providers and edit in Illustrator. This allows you to remove/add people and objects, move things around, and change words and colors easily.
I could name several more reasons, but this should give you enough reason to bring your staff to the November 12 session on the Basics of Adobe Illustrator. You can register for free by clicking the button below and filling out the brief form on the page!