New Gift Subscriptions Add-On for MemberPress available now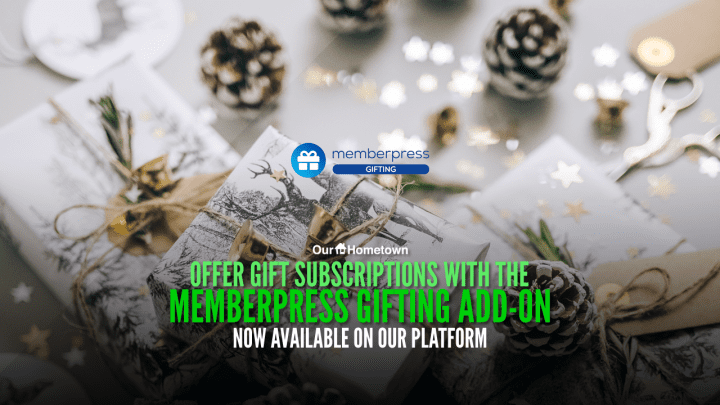 Click play to LISTEN to the article below
Our-Hometown is excited to announce that the new MemberPress Gifting Add-On is now available for customers on our WordPress Publishing Platform, allowing readers to easily purchase and monitor digital Gift Subscriptions for a friend or family member through the website.
The MemberPress Gifting Add-On replaces our existing Gift Subscriptions feature, offering a more streamlined and user-friendly approach that includes a direct integration with the MemberPress software.
Setting up Gift Subscriptions in MemberPress is a breeze. Keep scrolling to find out how!
Enabling a Gift Subscription
Once the MemberPress Gifting Add-On has been enabled on your website, you'll need to choose which Memberships you want to allow to be gifted.
The Gift Recipient will have their Gift Subscription delivered via e-mail, and they will need to create an account on the website in order to redeem their gift. For this reason, we recommend that you only allow Digital or Print + Digital Combo memberships to be gifted through MemberPress.
(If you want to create a standalone order form for Print Only Gift Subscriptions, just e-mail us at ops@our-hometown.com!)
In order to allow a Membership to be gifted, navigate to the Membership settings and check the box next to the option labeled, "Allow this membership to be gifted."
Purchasing a Gift Subscription
Once you've updated the Membership settings for each of the different memberships that you intend to allow to be gifted, visitors will see a new option during checkout allowing them to designate their purchase as a gift:
Once the customer has submitted their order with the "Is this a gift?" box marked, they will be prompted to fill out a quick form with the gift recipient's Name and Email Address, as well as a personalized message to include in the mail:
The Gift Recipient will receive the Gift Subscription via email at the address provided. The email will include the personalized message from the buyer, and will include a link where the recipient can redeem their gift.
The link will take them to the standard registration page for the membership that was gifted, but there will be a coupon code applied reducing the price to 0 so that the recipient doesn't have to pay anything.
Monitoring Gift Subscriptions
One of the complaints about our older Gift Subscription system was that after a gift was purchased and delivered, it was difficult for both the purchaser as well as newspaper staff to track whether the recipient had ever actually redeemed the gift and started using the subscription.
The MemberPress Gifting Add-On solves that problem by allowing anybody who purchases a Gift Subscription to track the status directly from their My Account page. Members will see a new tab labeled "Gifts" once they have purchased a gift subscription, and it will include a list of all purchased gifts and whether or not they have been redeemed.
If a gift has not been redeemed, members have the option to send out the gift delivery email again, or they can copy the Gift URL and send it directly to the recipient over social media or other forms of direct messaging.
Newspaper staff can also monitor purchased and redeemed gifts from the Transactions tab, where there will be a new filter option to view "Gifts Purchased" or "Gifts Claimed."
---
A few additional notes from the MemberPress team regarding Gift Subscriptions:
Note: If a membership is set up as a recurring subscription, the gift will only be valid for the first cycle, after which the subscription will expire. 
Note: A free membership cannot be gifted.
Note: All trial periods will be overridden when a user signs up for a gifted subscription. For example, if the membership terms are set to 7 free days, and $25 a month, the recipient will get a month's worth of access instead of the 7 day trial.
That largely covers the basics of the new MemberPress Gifting Add-On that is now available to Our-Hometown customers just in time for this holiday season.
If you're interested in setting up Digital Gift Subscriptions on your website, just e-mail our support team at ops@our-hometown.com and let us know!