Our-Hometown Live Virtual Conference: 6 Innovations in Local Online News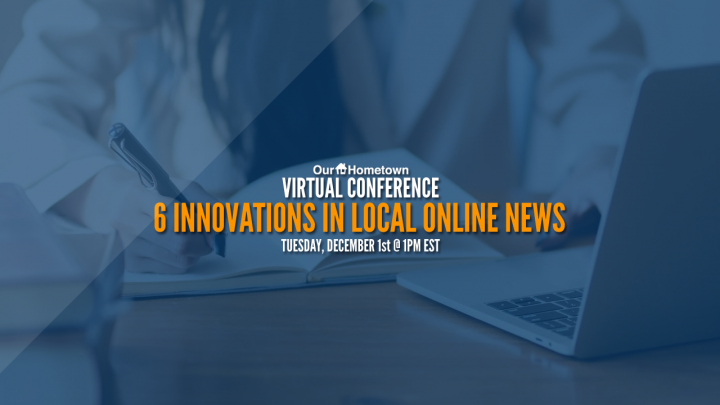 Click play to LISTEN to the article below
Our-Hometown is happy to extend this invitation to our upcoming Virtual Conference: 6 Innovations in Local Online News which will take place LIVE on December 1st at 1PM Eastern, where President & CEO Matt Larson will highlight some of the most innovative and cutting-edge features that our engineers have developed for our platform.
Newspapers worldwide are searching for ways to adapt to the on-going shift to digital publishing, but Our-Hometown offers a variety of tools to ease that transition. Join Matt as he shows off some of the great features we've outlined below!
Audio Articles is an exciting feature that converts published HTML articles into a playable audio file, allowing your audience to listen to the news on the go or while performing other tasks. The feature includes both an HTML and audio advertisement spot that can be sold to generate additional revenue. As a bonus, these audio files can also be re-purposed to create other digital content for your website!
Our iOS and Android Apps take all of the convenience a reader may find in browsing the website and pack it into a small application that can be downloaded to any smartphone. Our apps are fully integrated with your WordPress website to work with the paywall and include all articles and advertisements. Apps also include custom push notifications that can be set up to alert users of new content as it is published online!
Reverse Publishing from WordPress to InDesign is Our-Hometown's gateway to digital publishing. While many newspapers elect to focus on publishing the print edition first and transfer content to their website later, our Reverse Publishing Suite makes it possible to work in reverse! With this tool, you can publish all of your article content directly to the website first to strengthen your digital product and outreach, and then export the entire edition's worth of stories for placement in an InDesign template to quickly and easily create your print edition!
Our Google Docs Add-On converts the popular Google Docs word processing software into a full-fledged WordPress publishing solution! Once you've linked the add-on with your Our-Hometown website, you can draft, edit and publish content directly to your website from your Google Docs workspace. All of the options you'd normally find in the WordPress Article editor are available in Google Docs!
Our new Auto Publish Articles to Social Media feature allows publishers to schedule content to go live at a particular date and time in the future, while simultaneously sharing the post across several social media platforms automatically. This is a great way to get your stories out to your audience immediately as they are published, while also helping to beef up your social media performance numbers!
User Generated Content can be a great way to drive both readers and reporter to your website. Allowing guests to submit their own content for review and publication on your website offers the potential to cover more topics that you would not otherwise have the resources to cover, which in turn can bring in more readers. Of course, you can also ask readers to submit other kinds of media like photos or videos for a variety of purposes that can also drive engagement.
You don't want to miss this presentation, so take a moment to fill out the brief form below and Register today! Be sure to check out our Virtual Conferences page frequently for information on all of our upcoming Virtual Conferences and live webinars!
---
6 Innovations in Local Online News
12/1/2020
1:00pm EST
1 hour

This webinar will highlight the most cutting edge technology available on Our Hometown's WordPress Platform. We'll focus on tools for automated podcast creation (Audio Articles), Hybrid iOS/Android apps with customizable push notifications, Plugins for exporting content from WordPress to Adobe InDesign, and a Google Docs Add-on for direct publishing to the web. Lastly, we will discuss auto-publishing to social media and a Gravity Forms based process for accepting user generated content as draft articles in the CMS.