SignalsAZ's Guy Roginson featured on Editor and Publisher podcast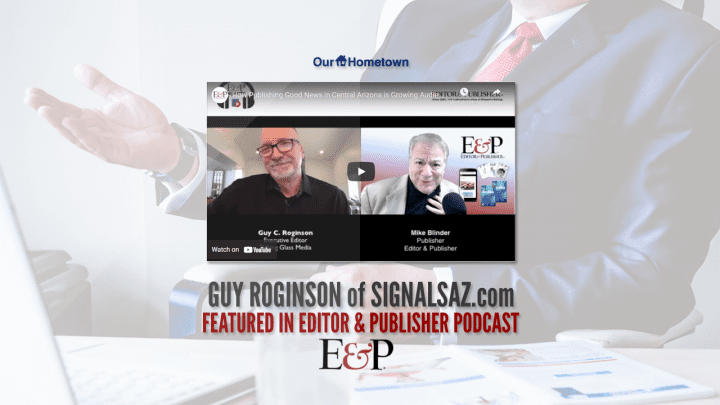 Click play to LISTEN to the article below
Long-time Our-Hometown, Inc. customer and friend Guy Roginson, the Executive Editor at Talking Glass Media (TGM) and SignalsAz.com, was recently featured in an episode of Editor and Publisher's "E&P REPORTS" podcast where he joined host Mike Blinder to discuss the overall strategy and vision of TGM.
You can find the full episode, titled "How Publishing Good News in Central Arizona Is Growing Audience and Revenue" on Editor & Publisher's website, or by viewing the video embedded below, courtesy of E&P's YouTube page!
We're always happy to shine the spotlight on our customers' efforts and contributions to the publishing industry, and Roginson has always been more than willing to share his perspective and insight with our team and customers!
Congratulations to Guy and his team on recently eclipsing 6 million pageviews, as mentioned on the E&P website!
Any publishers interested in sharing their own contributions with Our-Hometown's audience can email us at any time using the address ops@our-hometown.com! You might just be featured in an upcoming newsletter!