Two-Factor Authentication now available for OHT customers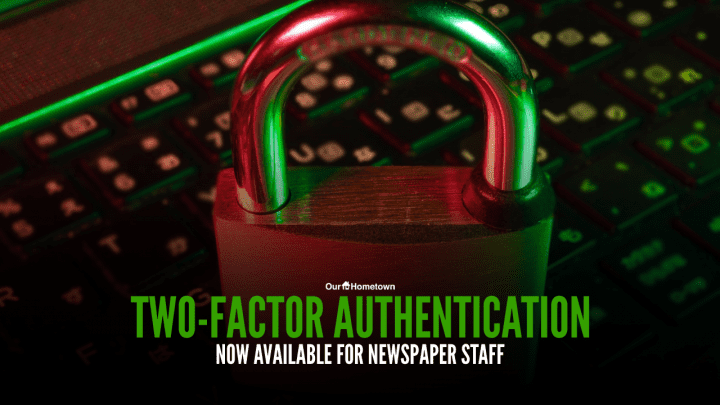 Click play to LISTEN to the article below
At Our-Hometown, the security of our customers' websites and data is our highest priority, and our engineers are constantly working to make sure our platform is up to date with the latest security protocols to defend against cyber threats.
One of these protocols is known as Two-Factor Authentication, and you've probably already seen it in use on many of your favorite websites.
Two-Factor Authentication, or 2FA, still requires users to login with their normal username and password, but upon doing so they are asked to enter a special pin code that is delivered to the user via mobile, email, or in our case, an authentication app such as Google's Authenticator.
The idea, of course, is that even if someone were to obtain your login credentials, they still could not access your account or cause any damage without the special pin code, which is refreshed with a new code in real time every minute.
Our-Hometown now offers Two-Factor Authentication as an option for our customers, granting publishers, editor and other newspaper staff members an extra level of security.
For now, this option will only be available to newspaper staff members — in other words, user accounts with the Editor role or higher — and customers will be required to enable the feature by visiting their user profile in the WordPress Dashboard and clicking the Configure 2FA button at the bottom of the page.
Configuration is quick & easy — you'll just scan the provided QR code using Google's Authenticator App on your mobile device, and the rest is like magic! You'll see the pin code listed within in your Authenticator App, and the next time you log in, you'll be asked to enter the current pin code.
If you need help setting up Two-Factor Authentication, feel free to reach out to our support team for more information by emailing ops@our-hometown.com.