Audio Articles Playlist is now available from Our-Hometown!
August 9, 2021

/

Audio Articles, Content, Feature Highlights, General, Industry News, Latest from Our Hometown, Media, News, Office Hours, Press Release, Revenue, Websites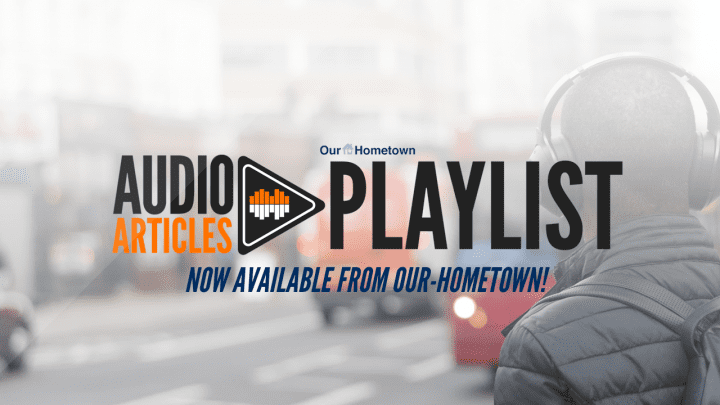 Click play to LISTEN to the article below
Our-Hometown is excited to announce the latest enhancement to our popular Audio Articles feature: the Playlist!
Audio Articles Playlist is a centralized hub on your website where a reader can listen to any of several preset playlists of Audio Articles published on the website. These preset playlists include a dedicated playlist for each traditional article category on the website, as well as more refined Collections such as the self-explanatory "This Week's Articles", "Last Week's Articles" and "This Month's Articles" playlists.
Of course, the Newest Audio Articles are also prominently displayed so that a visitor can easily catch up on any news they've missed.
Once a playlist has been selected, the Playlist player opens up to display the current Audio Article being played, a queue of upcoming audio articles, and your traditional media player control buttons. Listeners can also switch to the Article View to view the full text of the article if they want to read along!
---
Check out these screenshots below from
the Cattle Business Weekly Audio Articles Playlist page!
---
We should note that Audio Articles recognizes subscriber status, meaning you can make sure that your audio articles are only accessible to paid subscribers, or could even offer a separate audio-only membership!
The Audio Articles Playlist feature also includes an awesome Top Audio Articles widget to display the most popular audio articles and provide a way for the reader to quickly launch into the playlist player.
Audio Article Playlist is now available for any customer currently using our Audio Articles feature at no additional cost. We'll even help promote the feature to you readers by adding a button linking to the new Playlist page, and we'll create a ready-to-send newsletter highlighting the feature that can be sent to subscribers!
To see this new feature in action, check out the Cattle Business Weekly's Audio Articles Playlist today!
If you're already using Audio Articles, or are interested in activating the feature in order to utilize Audio Articles Playlist, just send an email to our support team at ops@our-hometown.com and ask!