Accepting milestone announcements through your website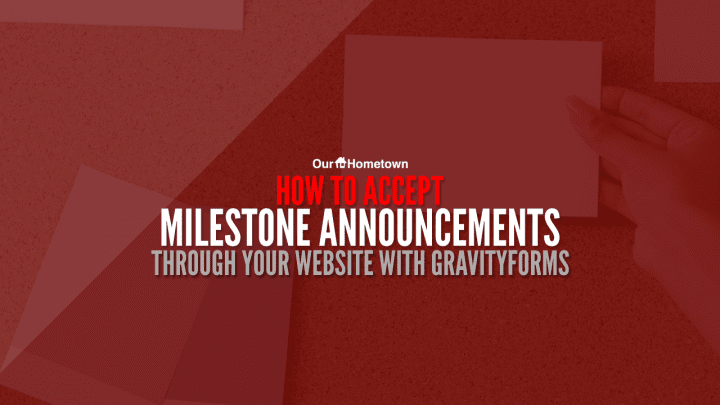 Click play to LISTEN to the article below
One way that local newspapers differ from larger, digital-based news outlets is their focus on the communities and neighborhoods that they cover. Newspapers, of course, help their residents stay up to date on the latest news and happenings — but they also help their residents stay up to date on each other by publishing Milestone Announcements submitted by the community.
These Milestone Announcements can include things like Birth Notices, Engagement or Wedding Announcements, and congratulatory Anniversary messages. Many newspapers will publish Enlistment Notices to recognize those who've enlisted to join our armed forces. Almost all newspapers include Obituaries and/or Death Notices that are published by a family to inform friends, relatives and acquaintances of a loved-one's passing.
Did you know that you can accept submissions for these Milestone Announcements directly through your website?
Using the GravityForms plugin included with our platform, you can create a custom submission form for nearly any purpose, including collecting milestone announcements like the examples listed above.
All submissions are e-mailed directly to your editorial staff, where they can be reviewed and published in the printed edition.
You can even collect payment for these announcement as they are submitted, as long as you have a payment gateway such as Stripe set up.
We previously published a post on Creating Custom Forms with GravityForms, which demonstrates the basics of creating a custom form. We recommend checking this resource out if you're interested in creating your own submission forms.
For any customers who don't have the time to create their own submission forms, we'd be happy to help set them up for you! Send us a support request by e-mailing ops@our-hometown.com and ask about setting up Milestone Announcement forms.
We'll just need to know what details need to be collected within each form, and how much (if any) a customer should be charged in order to submit their announcement.
For any other questions or concerns, submit a ticket to ops@our-hometown.com at any time!