Congratulations to NYPA's 2019 Better Newspaper Contest Award Winners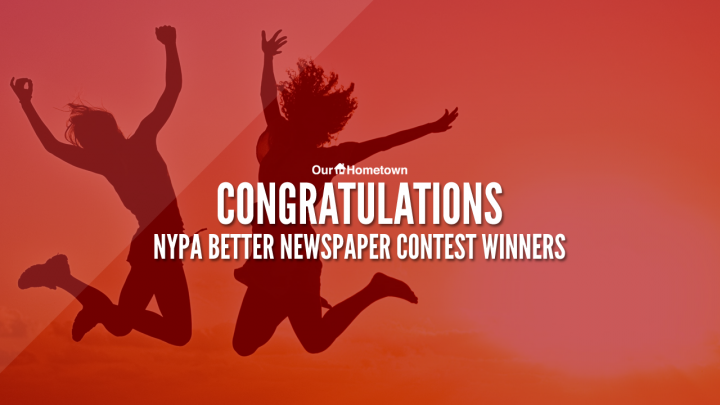 Click play to LISTEN to the article below
Our-Hometown would like to pass along our congratulations to award winners in the New York Press Association's 2019 Better Newspaper Contest — especially to our customers who took home some well-deserved recognition!
The Better Newspaper Contest is the New York Press Association's (NYPA) statewide competition that judges newspapers on their content in a few different categories, such as writing/reporting, photography, advertising and more. Winners were finally announced last month after the coronavirus pandemic derailed the original plan to announce winners at the NYPA's Spring Conference, which was ultimately canceled.
The winners were announced digitally via the NYPA's live-streamed Award Shows. You can click here to view a replay of each show, or download a document of all of the winners in PDF format by clicking here.
We're so happy to see the efforts of so many of the people and publications that we work with on a daily or weekly basis pay off!
A big congratulations to the Bee Newspaper Group and Neighbor-to-Neighbor Newspapers, who each took home two first place awards via their respective publications The Amherst Bee, Warsaw's Country Courier, and the East Aurora Advertiser, as well as our other winners at The Wave, The Putnam County News & Recorder and The Garden City News, who each took home multiple second-and-third place awards! Slides from the NYPA's slideshow presentation featuring all winners on Our-Hometown's WordPress Platform are available below, as well as a text-only list.
Great work everyone! With all of the craziness that this year has forced upon us, we know that all of our customers have had to put in a LOT of extra work and come up with creative solutions to unfamiliar problems in the publishing industry. We can't wait to see who makes the podium next year!
---
25625
true
false
false
false
true
false
false
auto
false
ease-in-out
300
false
0
true
false
%curr% of %total%
1st Place – Best News Story – Division 1 – Warsaw's Country Courier – Natalie Muster, Neighbor-to-Neighbor Newspapers
1st Place – Best Automotive Special Section – East Aurora Advertiser – Neighbor-to-Neighbor Newspapers
1st Place – Classified Advertising – Amherst Bee – Bee Newspapers
1st Place – Best Small Ad Space – Division 1 – Amherst Bee – Bee Newspapers
2nd Place – Best Graphic Illustration – Division 2 – The Wave – Paula DiGioia
2nd Place – Classified Advertising – The Garden City News – Margaret Norris
2nd Place – Best Advertising Campaign – Division 1 – Putnam County News & Recorder – Sheila Smith Cunningham
3rd Place – Best House Ad/Ad Campaign – Division 1 – Amherst Bee – Bee Newspapers
3rd Place – Best House Ad/Ad Campaign – Division 1 – East Aurora Advertiser – Neighbor-to-Neighbor Newspapers
3rd Place – Special Sections/Niche Publications – Division 2 – The Garden City News – Margaret Norris
3rd Place – Editorial Cartoon – Division 2 – The Wave – Thomas Kerr
3rd Place – Best Large Ad Space – Division 1 – East Aurora Bee – Bee Newspapers
3rd Place – Best Small Ad Space – Division 1 – Putnam County News & Recorder – Sheila Smith Cunningham
3rd Place – Best Front Page – Division 1  – Amherst Bee – David F. Sherman