Creating Category-specific Ads with AdRotate Pro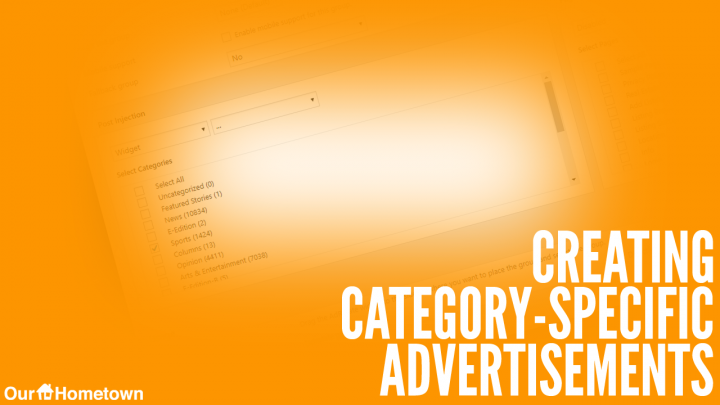 One exciting feature of the AdRotate Pro plugin included with our WordPress CMS is the ability to display an ad or a group of ads only when viewing a specific category, allowing you to sell targeted advertising opportunities to your clients. A local sporting goods store, for example, may be interested in placing an ad that only shows on Sports articles, where readers are more likely to be interested in their products. Along the same lines, a healthcare provider may want to advertise on Health related content, while a funeral home might want to run ads specifically on obituaries. All of this is made possible using AdRotate Pro's Post Injection.
If you're familiar with creating adverts in AdRotate Pro, then this should be pretty straight forward. If you aren't familiar with the basics of AdRotate Pro, consider first checking out the Advertising Training section on our WordPress Basic Training page, here. There are a handful of short videos that should help you get up to speed.
The most important thing to keep in mind when setting up category-specific ads is that the Ad Group is what controls all of the post injection options, not the Advert itself. If you place a standard AdRotate Advert widget and select an ad that you only want to display on the Sports page, it will display everywhere — because you have placed an individual advertisement rather than the group.
Let's get started.
Creating The Adverts
In our example, we are going to place two category specific ads — one for the Sports category, and one for the Arts & Entertainment category — along with a third "universal" ad that will be used for all other categories outside of Sports and A&E. However, you can expand upon these principles and run as many category specific ads as you'd like.
The first thing you'll want to do is create some advertisements that are meant for specific categories.
In this case, I've created an ad titled SPORTS ONLY, an ad titled A&E ONLY, and an ad titled ALL CATEGORIES EXCEPT SPORTS AND A&E. (These names are just for demonstration purposes, and in a live environment would likely be business names like "Joe's Sports Shop" or something that clearly identifies the ad.) These are set up just like any other advertisement, with a schedule determining the dates which the ad should run and the advanced options that determine which devices the ad should display on. There are no special settings here — remember, it is the Ad Group that determines when and where the ad shows up.
Creating The Ad Groups
The next thing you'll want to do is create the Ad Groups by finding the Manage Groups tab under AdRotate Pro on the WordPress Dashboard. Click Add New on this page to begin creating a new group.
Once again, you can start by filling out standard Ad Group settings such as the name, size of adverts that will go in this group, and the mode: Default, Dynamic, or Block.
Further down the page are the Advanced settings that control alignment and mobile support, followed by the Post Injection section.
This is where you are going to set up where the ads display.
Under Post Injection, change the dropdown menu selection from Disabled to Widget. This tells the system that post injection will be used only for widgets that have are set to this specific group.
Next, scroll down your list of categories and mark the "X" next to the category that you want this Ad Group to display in.
We created three Ad Groups: Sports Only Ads, A&E Only Ads, and All Other Categories — so for the Sports group, we mark the sports category, etc.
For the "All Other Categories" group, we mark every category except for the Sports and A&E categories.
At the bottom of the page, you're able to select individual Adverts to assign to the group. Mark the appropriate adverts that you created earlier — your "Sports only" ad should go to the "Sports only" ad group, etc.
Placing the Ad Groups
The final step is to use the Customizer tool to place an AdRotate Group Widget where you want your ads to display — usually the Default Sidebar widget area.
After you place the widget, make sure to select the appropriate group.
In this example, you'll end up with three group widgets stacked on top of each other — but only one of them will ever show at a time, depending on whether you are viewing a Sports article, an A&E article, or an article from any other category.