Creating Coupons in Memberpress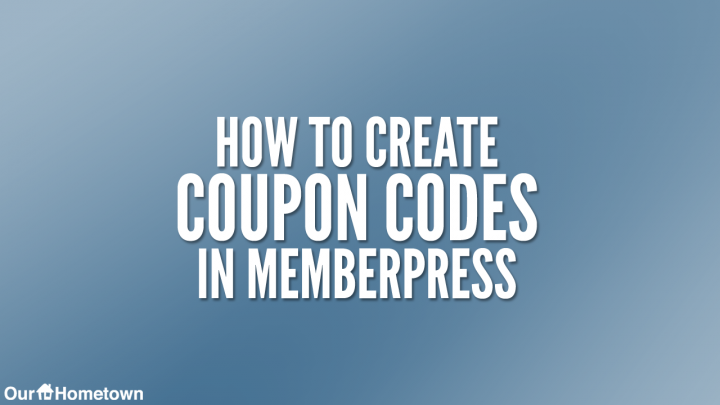 Click play to LISTEN to the article below
A popular method of generating subscriptions on your website is to offer promotional discounts for new members, enticing them to take advantage of some great savings or even a free trial. Fortunately, this entire process is made simple using Memberpress's Coupons feature. You can create a customized coupon code in just a couple of minutes!
From your WordPress Dashboard, navigate to Memberpress → Coupons.
You likely won't have any coupons created yet; so click Add New to begin creating your first Coupon.
By default, the new coupon code will be a randomly generated string of numbers and letters, but you can edit the code to whatever you want — just don't include any spaces or special characters! Most customers prefer to use something easy for their readers to remember. This is the code that you will eventually deliver to your readers via email newsletters, social media, print, or however you choose to advertise your promotional discount.
Under the Coupon Options, there are a few settings that need to be configured to determine how your coupon should work.
1. Discount: The discount is pretty straight forward. You can enter either a dollar amount or a percentage to be discounted. In this example, we've chosen a percentage and entered 50%.
2. Discount Mode: There are three discount modes:
Standard – A standard discount of the amount/percentage entered above. If applied to a recurring subscription, this discount will apply to each payment made towards that subscription.
First Payment Only – Discounts the amount/percentage entered above, but only on the First Payment of a recurring, auto-renewing membership.
Trial Period Override – Discounts the amount/percentage entered above, but only on the Trial Period of a recurring, auto-renewing membership. (The membership does not need to have a trial period in order for this to work. The benefit of using this setting over the First Payment Only option is that you can set the amount of days that the trial period should last, whereas the first payment can only be for the normal duration of the automatically recurring subscription.)
3. Usage Count: You can enter a maximum number of uses if you want to limit this offer to the first "X" amount of people to use the code, or if you have a code that you only want to give to one specific customer.
4. Expire Coupon: If you want the Coupon to expire on a certain date, mark this box and enter the date. The coupon will no longer be valid after that date.
5. Finally, you are asked to Select Which Memberships to Apply the Coupon to.
Example 1: Standard Discount
In our first example, we'll create the code "HALFOFFMARCH" for a 50% discount on a one-year membership.
Notice we've set up the 50% discount as a Standard Discount with unlimited uses, set to expire at the end of March.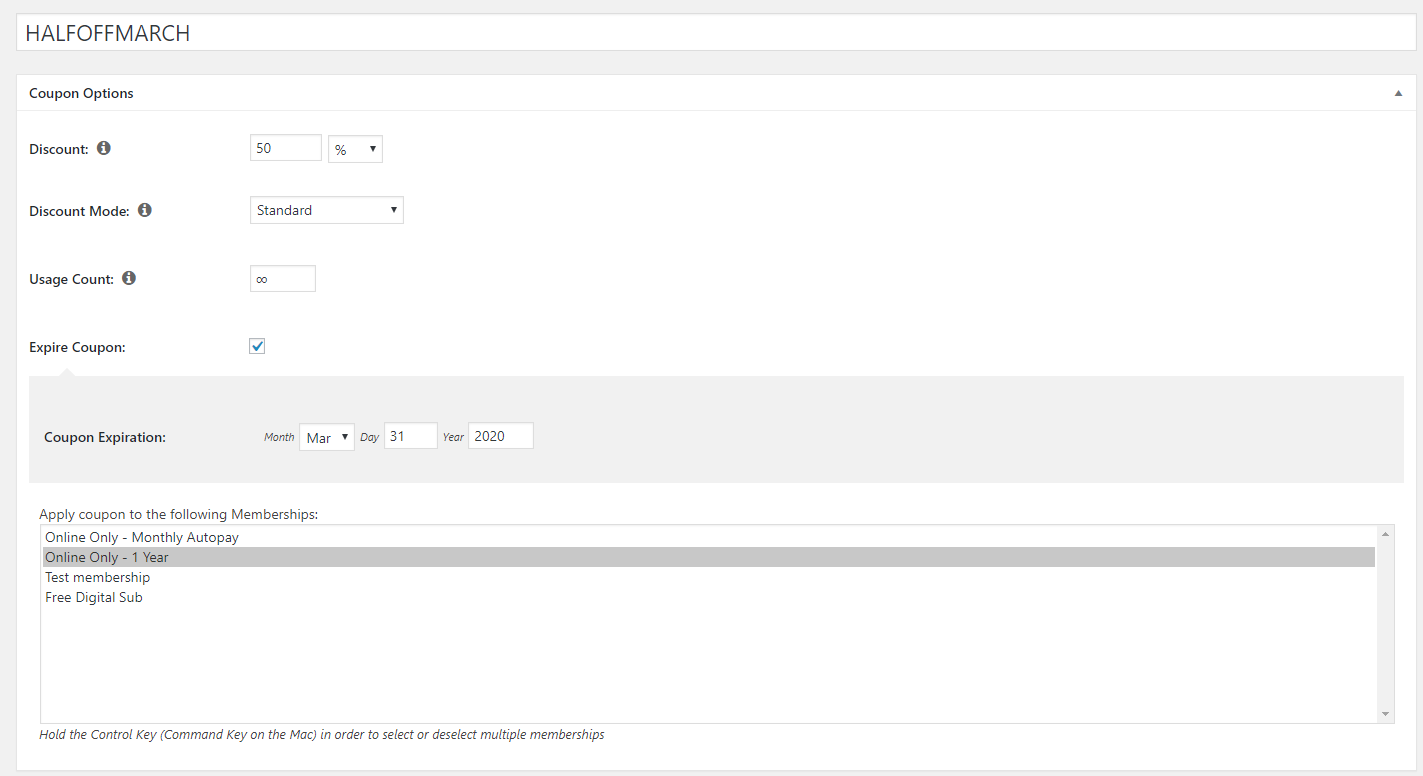 For our "HALFOFFMARCH" promotion, we only want to apply this to the standard Online Only – 1 Year membership.
Example 2: First Month Free
In our next example, we'll apply a discount to a Recurring (Auto Renew) Membership.
We are going to offer a Free First Month to anyone who subscribes to this membership. We've appropriately set up the coupon code to read, "FIRSTMONTHFREE"
Because this coupon will be for readers on a Recurring Membership, we don't want to use the Standard discount mode — doing so would mean that the customer gets a discount on every payment made for the duration of their subscription.
We certainly don't want that, so in this case, we have left the Discount value at "0" and changed the Discount Mode to "First Payment." This allows us to offer a discount on the first payment towards a recurring subscription, while each subsequent payment will charge the full price.
In this example, we are offering the entire first month for FREE, so we have set the First Payment Discount to "100%."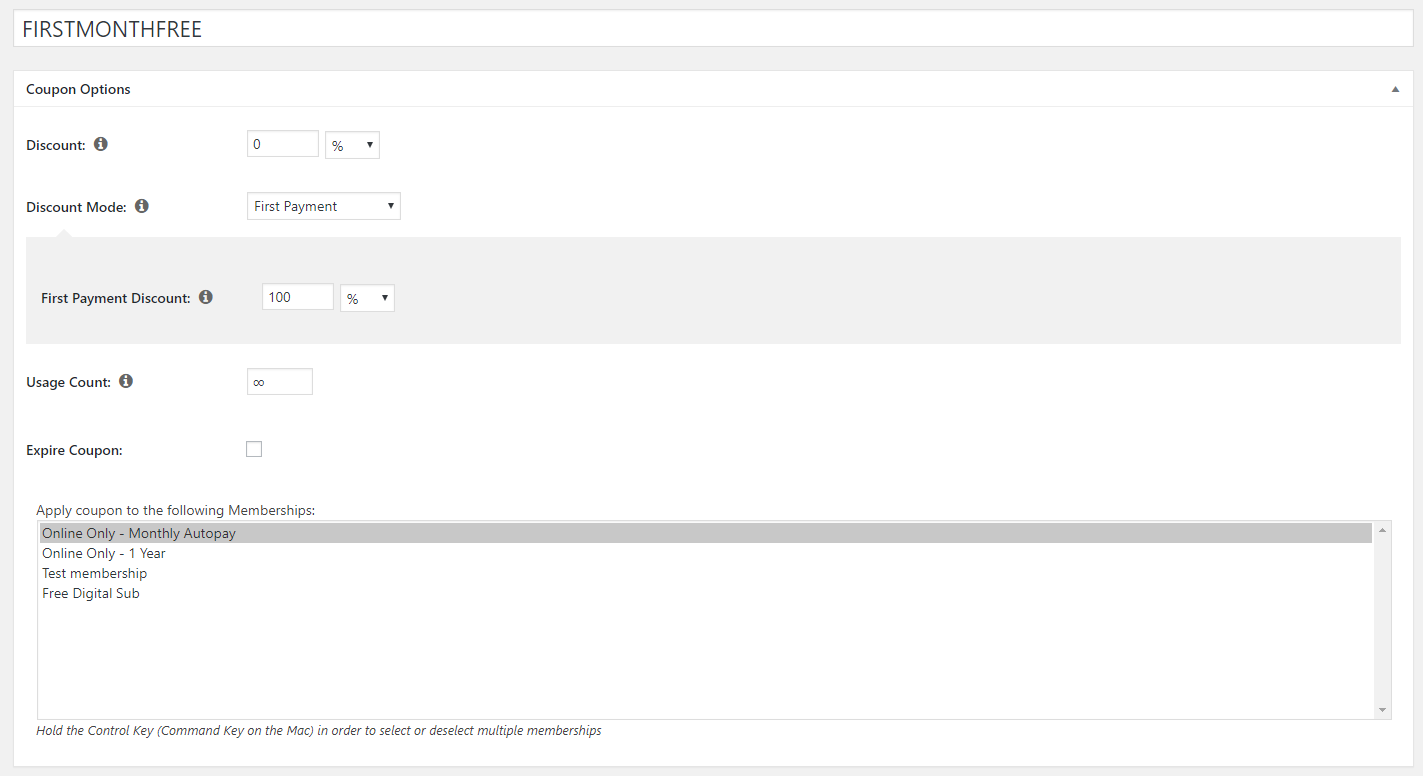 We do not need to limit the usage count, and an expiration date is optional.
Make sure to only apply this membership to recurring subscriptions, as shown above.
Memberpress has their own documentation, which includes a few other case examples of when and how to use Coupon Codes. We suggest reviewing this document to determine which discount method will work best for your website: https://docs.memberpress.com/article/194-coupon-case-examples
All in all, you can create a fully functioning coupon code in less than 5 minutes! Once you've published the coupon code or delivered it to your readers, they can navigate to the Subscribe page, select the appropriate membership, and click the "Have a coupon?" button to enter your coupon code. If accepted, the page will update to reflect the new price like the screenshot below.