Creating Newsletters with Drag & Drop Composer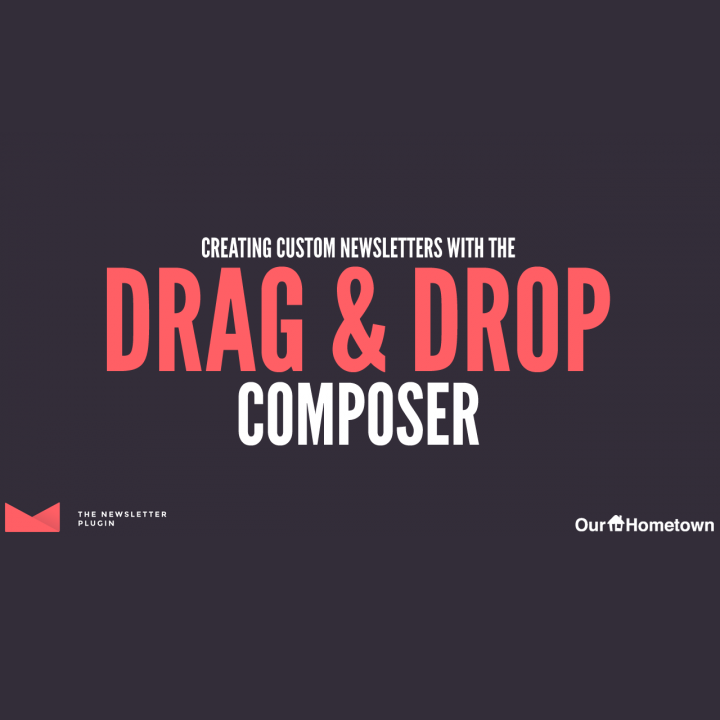 The newsletter you are reading now was created on the WordPress Drag & Drop Composer.  This tool is a new way of creating custom and unique newsletters without any need for experience with HTML or CSS. It is a visual "drag & drop" editor that allows you to click and drag a number of different kinds of blocks into your newsletter layout. Every "block" has its own styling options and can be easily arranged within your newsletter to create an appealing email.
These Blocks include things like an Image block for logos and photos, a Text block for writing friendly introductions and other text, a Separator block for inserting an attractive looking border to separate your content sections, and many others – but none more useful than the new CPT Block.
The CPT Block (or "Custom Post Type" Block) allows you to pull content that was published as a "Custom Post Type." Without getting into the technical details, understand that Articles, PDFs, and even things like Events and Business Directory Listings are all considered Custom Post Types, and can now be easily included in your newsletter using a CPT block.
Just place the CPT Block into your newsletter, and select "Articles" (or the appropriate media type) from the "Post Type" drop down selection.
You'll also want to select how many articles to display, and from which category you want to display articles from.
A good practice would be to use several different CPT Blocks – one for each section of your paper.
Add a "Text" Block and enter section name: "Sports Stories"
Add a CPT Block and mark the checkbox for "Sports" category
Add a Separator block to add a small border to signify the end of the sports section.
Repeat for a "Community" section, etc.
Best of all, you can use the Drag & Drop Composer along with the Custom Post Type Block in your Automated Newsletters! Keep an eye out next week as we'll be posting a "Part 2" video that demonstrates using the Automated Newsletter with the Drag & Drop Composer.