FEATURE UPDATE: Confirmation Popup when Sharing Articles via E-mail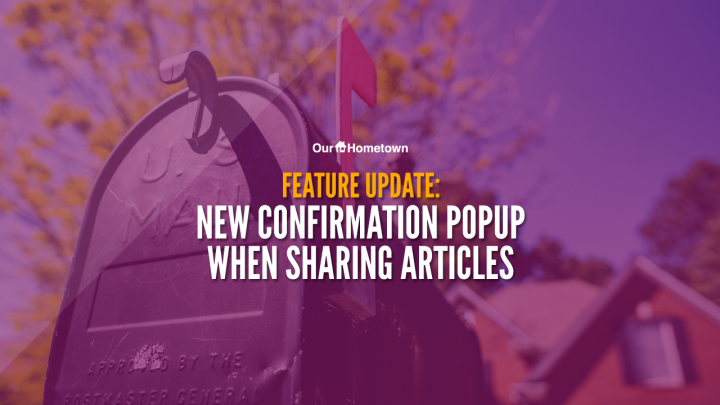 Click play to LISTEN to the article below
Our-Hometown's engineers have introduced a small quality-of-life update that improves the process for broadcasting articles via the E-mail Newsletter.

Every Article on our platform includes a Broadcast Options panel on the edit screen, which includes a button to "Share via E-mail Newsletter." This button immediately creates a newsletter featuring the article and sends it out to your newsletter mailing list. However, we received some feedback from customers who expected a confirmation message before actually sending out the e-mail, in case the button was pressed inadvertently.
We're happy to report that this small but important Confirmation Popup is now live on all websites on our platform!

Now, when you click the Share via E-mail Newsletter button, you'll see a popup asking you're sure that you want to send the e-mail to all of your e-mail subscribers. You can click "OK" to go forward with sending the e-mail, or click "Cancel" to cancel your request.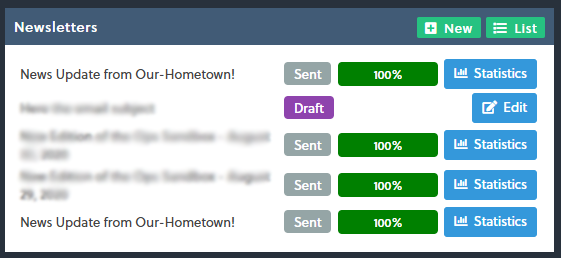 Remember that any e-mail you've sent to your subscribers, including those generated by using the Broadcast Options, will be displayed on your list of sent e-mails within the Newsletter plugin. Visit your Newsletter Dashboard for a list of recently sent or drafted newsletters.
From here, you can view the Statistics for each e-mail in case you're interested in measuring the reader response to a particular article you've shared. You'll be able to see how many users have clicked and opened the email, among other options. Once the Statistics Overview page loads, click the Subscribers detail button within the "Reach" section for a list of e-mail recipients and how they reacted to the e-mail.


If you have any questions or have any further suggestions to improve our tools, please reach out to ops@our-hometown.com at any time!