Announcement: Reverse Publishing now included for Full Service customers!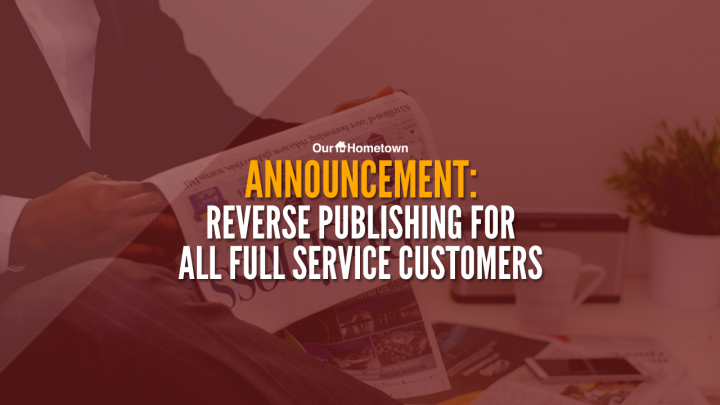 Click play to LISTEN to the article below
NOTE: This offer has been extended through the end of October!
Our-Hometown CEO Matt Larson announced some exciting news at today's session of Office Hours: Beginning today and for a LIMITED TIME, our Reverse Publishing tool will be made available by request to any Full Service (Extraction) customers currently using our WordPress Publishing Platform!
As a full-service customer, you are already taking advantage of our Article & Ad Extraction service, where you simply upload PDF pages for each new edition to our FTP server and let the magic happen as our team carefully extracts all content and publishes it to your website. Although not exactly automated on our end, it is about as close as you can get from a publisher standpoint, and allows your newspaper staff to focus on the print product while Our-Hometown handle the website. For a long time, this model has worked very well, especially for smaller publications that may not have the manpower to manage both print and online content.
Now, as the industry continues to shift to a digital-first mindset, many publishers are taking the opposite approach — prioritizing the digital product and spending less time on print. Our Reverse Publishing tool fits right in line with this line of thinking, allowing you to draft, edit, and publish content directly to the website first, and then once you're satisfied you can export a single article, a category/section, or an entire edition's worth of articles for quick and easy placement into an Adobe InDesign document to create the print edition. You can see why this tool is a great first-step towards converting to a digital-first model.
A digital-first line of thinking can be hard to wrap your head around after so many years in the print industry, and we know that you're not going to change your entire process overnight. That's why we've decided to make our Reverse Publishing tool available to all current Full Service customers at no additional cost. This way, you can try it out yourself and get some hands-on experience using the tool on your own time, all while Our-Hometown continues to update your website with new content.
Once you've found time to familiarize yourself with the tool and fine-tune some settings to your preference, you can decide whether or not you want to use this feature as a means of pivoting to a Self Service model, cutting the cost of our extraction service and setting yourselves up for success in a digital-first world.
Check out the links below for more information on our Reverse Publishing feature:
Fill out the brief form below to request access to the Reverse Publishing tool — but act fast, as this offer is only available for a limited time!
---