Important Update for Embedding Social Media with oEmbed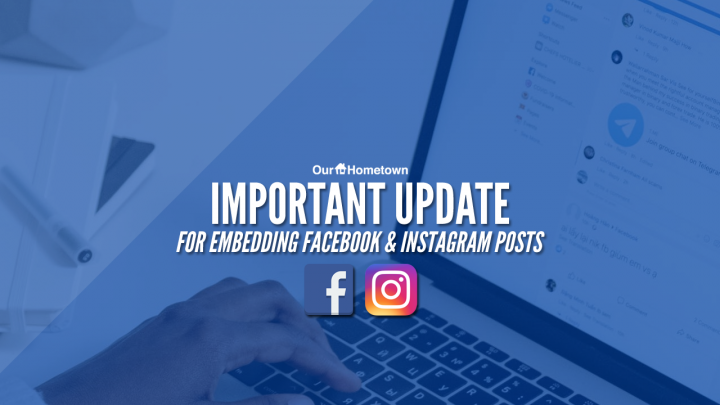 Click play to LISTEN to the article below
Facebook and Instagram are making changes to the way that content from the social networks is embedded into WordPress pages, posts and articles.
Beginning on October 24th, you will need to Register a Facebook App in order to continue embedding Facebook & Instagram content directly into your posts and articles. This is because the social media giants are replacing their existing oEmbed functionality with new API Endpoints that require an application ID and access token in order to display the content being requested.
You've probably noticed that when you paste a URL to a Facebook or Instagram post into your article editor, WordPress will automatically take that URL and convert it to a format that displays the actual post content rather than just a URL. That is the magic of oEmbed. Unfortunately, this will no longer work after October 24th until you take the steps below to set up your site to use the new API Endpoints available with oEmbed Plus.
But don't worry! Despite all of the technical details we just went over, setting up your Facebook App is actually quite simple and takes just a few minutes!
Step 1: Register a Facebook App
You'll need a Facebook account to set up your first Facebook app; so please make sure you have registered and logged in with Facebook before proceeding.
Once logged in, head to the Facebook Developer section and click "My Apps" to view a  list of your Facebook apps. Your list will likely be empty.
Click "Add a New App" on the page or the "Create App" button on the menu, and when asked how you'll be using your app, select "For Everything Else" as the purpose.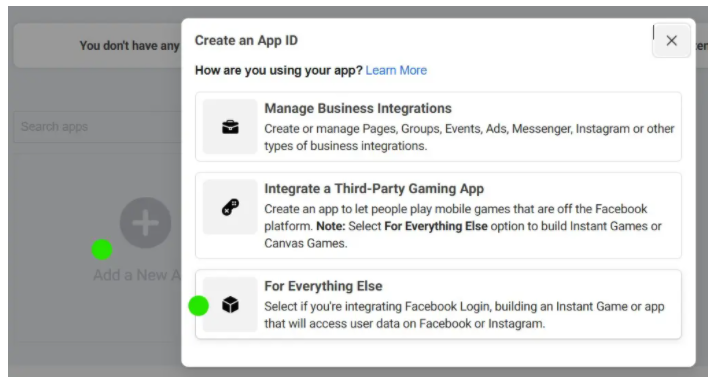 You'll be asked to enter a name and email address for your App, and once completed you'll be taken to the dashboard for your new application.
Step 2: Enable oEmbed in your App
Once your App has been registered, you need to enable the oEmbed feature.
On the dashboard page for your new app, scroll down to find the Products List. This list contains several different features that can be used with various apps depending on what you're using the app for. For this app, all we need is the oEmbed feature — the very last product on the list.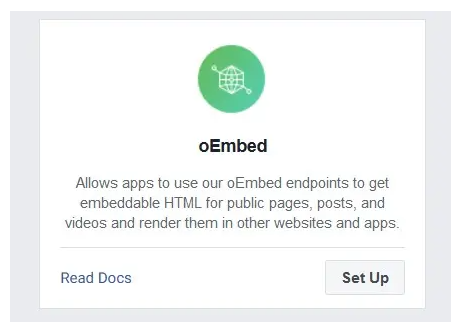 Click the Set Up button for the oEmbed product. You'll be asked to confirm your selection by marking a checkbox, but once finished, oEmbed will be activated.
Step 3: Enter Additional App Details
The hard part is done, but now we have to tie up some loose ends up by filling out any additional app details on the Settings -> Basic page from your app's dashboard.
Here you can add links to your Privacy Policy and Terms of Service, as well as upload an icon for your App. You can also edit the application name here and choose a category that best fits the purpose of the app.
The minimum requirement to activate your app is to set the Privacy Policy URL and select a Category for your application.
Step 4: Switch App to Live Mode
By default, your newly created app is in "Development" mode, meaning it can not yet be used by the public or any third-party websites such as your newspaper site. You'll need to first switch the application to Live mode.
At the top of your application's dashboard, you should see a small slider toggle next to the words "In Development." Simply click this slider to switch to "Live" mode!

If you haven't yet entered your Privacy Policy, you will see an error message prompting you to do so.
Once you've successfully done this, you'll see the "In Development" flag at the top of the screen switch to read "Live" instead, indicating that your app is fully configured and complete!
Step 5: Send us your App Id and Secret
The final step is to retrieve your App ID and App Secret from your Basic Settings page and send this to our support team using the ops@our-hometown.com e-mail address.
Navigate back to the Basic Settings page and you'll see these items listed prominently at the top of the page. Just copy the App ID and Secret into an e-mail and send it our way! You may need to click the "Show" button to display the App Secret in a way that allows it to be copied.

Once our staff receives this info, we can quickly enter it into the plugin settings, which will restore functionality related to embedding Facebook & Instagram posts into WordPress.
If you have any questions or need further help, please reach out to our Support Team at any time by emailing ops@our-hometown.com.