Creating an Interactive E-Edition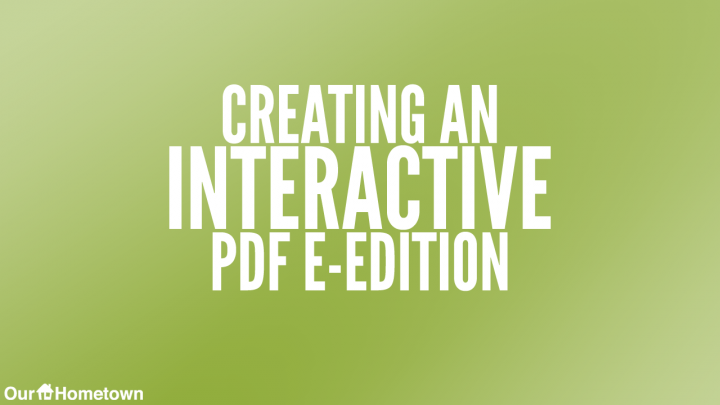 Click play to LISTEN to the article below
If you publish both articles and PDF E-Editions on your website, you can synchronize them to create an interactive E-Edition. This is done by going through the PDF pages and manually tagging each article to link it with the desired story. While it can be time consuming for a larger edition, it greatly improves the experience for readers who enjoy the PDF E-Edition and grants them the ability to share content more easily.
Tagging the E-Edition is very easy, but you must understand one principle: you can only select Articles in the E-Edition that belong to the same Edition as the PDF you are editing. Notice in the first screenshot below that the PDF Edition has the "2020-02-11" edition applied to it. In the second screenshot, you see some of the articles that are tagged with the same edition date.
Now, let's get started.
Navigate to the PDF Edition that you want to begin tagging, and open the PDF in the Pageviewer as if you were simply reading the PDF. While logged in with your staff account, you'll have some additional options, including a small slider to enable "Edit Mode."
Click to enable Edit Mode.
Next, draw an outline around an article on the front page of your PDF. You can draw multiple boxes if needed to select oddly shaped content.
Once you've selected some content, a text box will appear on the right hand side of the screen. Begin typing the name of the article you have selected in this text box. After the first couple of words, you should see the article show up as an option to be selected. Select the article that you want to link with this story, and click "Assign Article"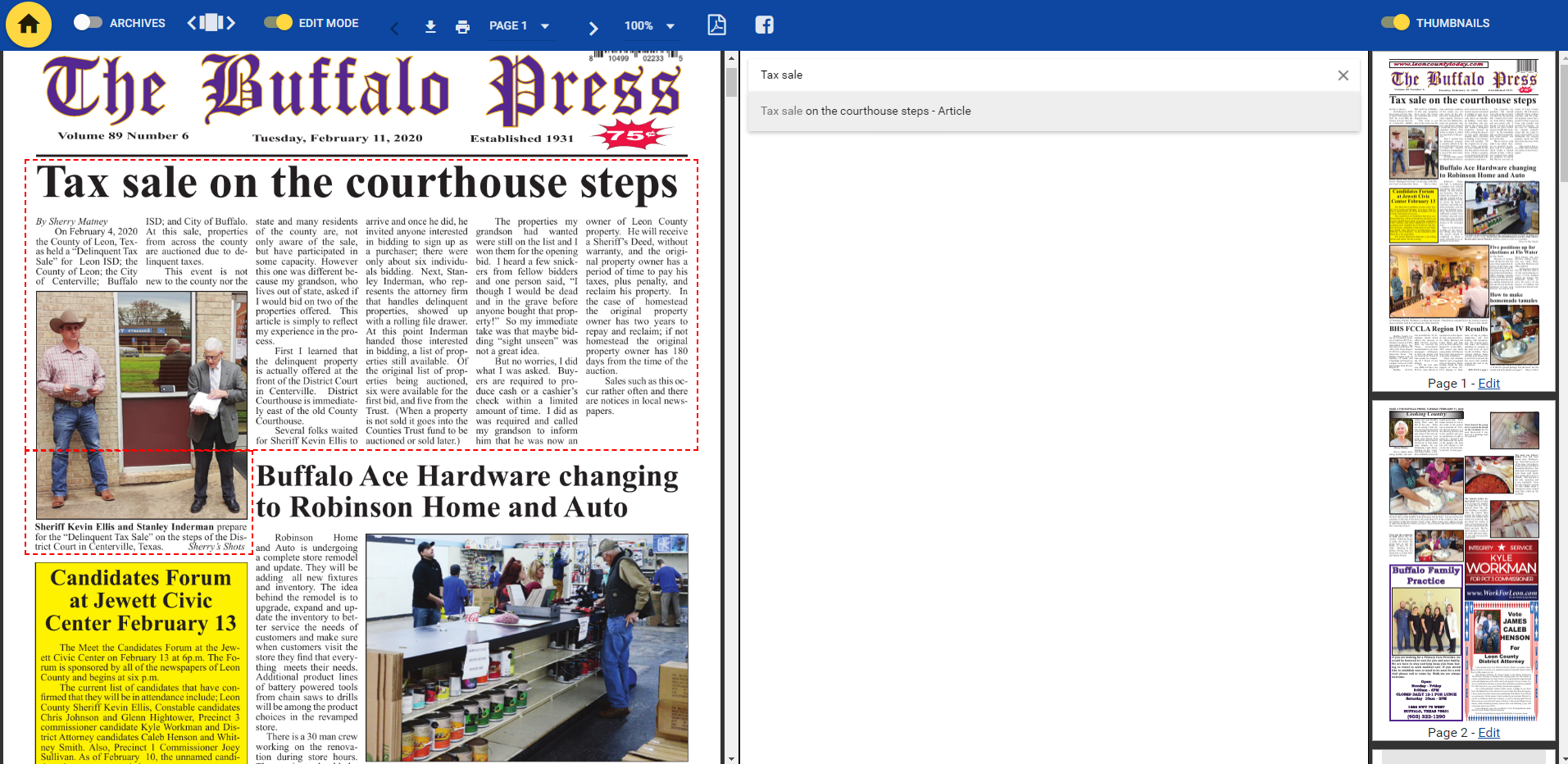 Repeat this process for each article in the edition.
Once you disable "Edit Mode", you'll find that you're able to click on any of the articles you've tagged and open a text-version of the story to the right.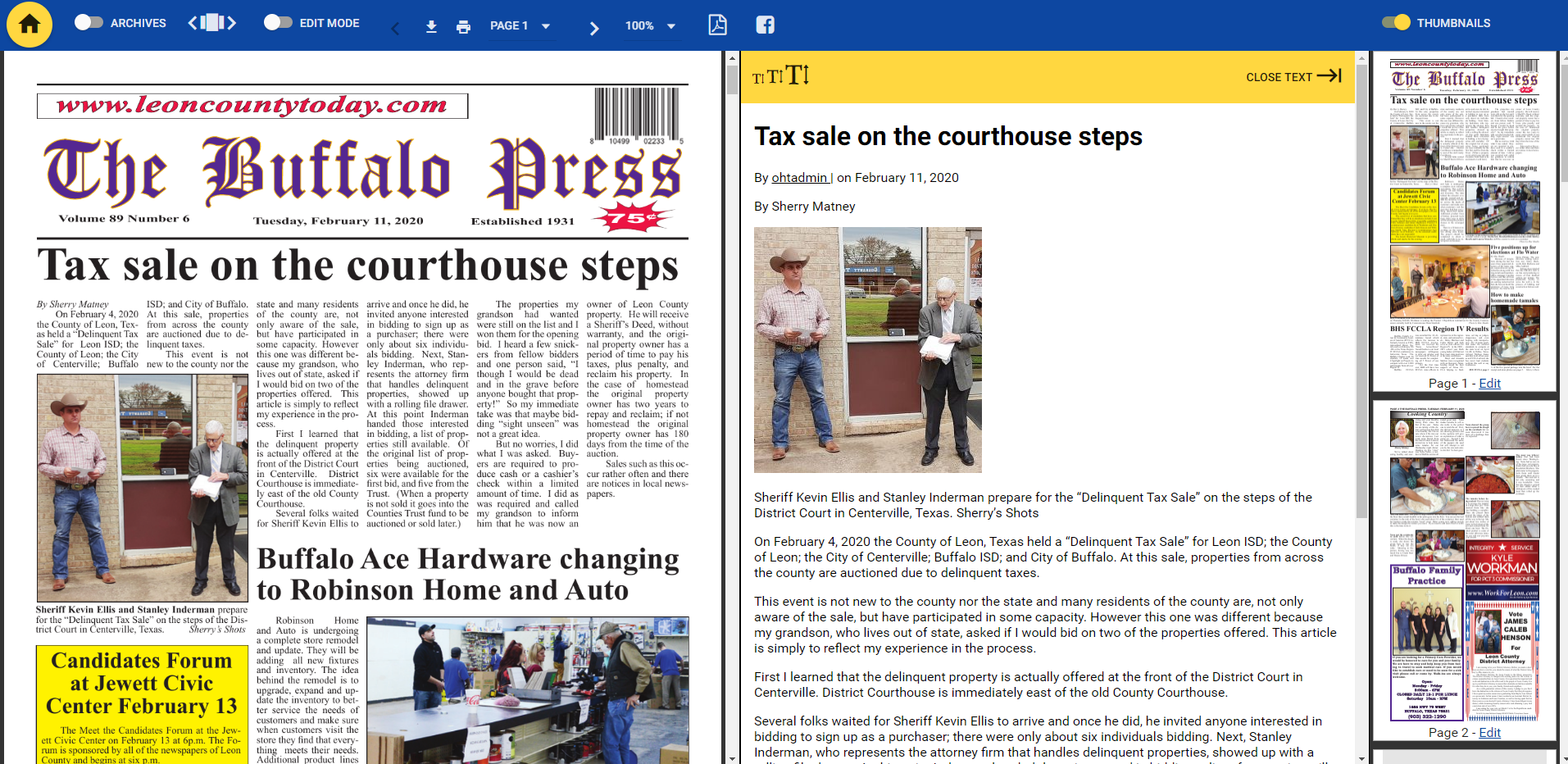 Interactive PDF E-Editions are a great way to bridge the gap between reading a traditional newspaper and reading the news online. Readers are able to browse the paper just like they would at the local coffee shop, but can enjoy some distinct advantages like being able to read an entire story without flipping through the pages looking for jumplines!