Introduction to Paywall Models available on OHT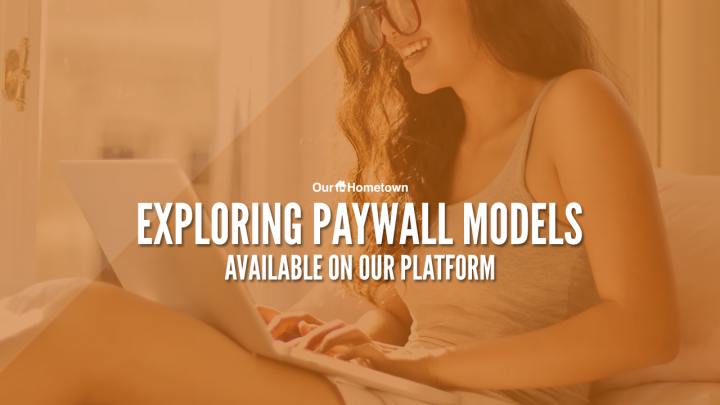 Click play to LISTEN to the article below
Although the COVID-19 pandemic is far from "over", small businesses around the country are doing what they can to safely open their doors back up to the public and return to some sense of normalcy. (Hey, we might even have sports back soon.) For newspapers that offer digital subscriptions, this may mean that you're preparing to reinstate a paywall that was dropped earlier in the  pandemic to facilitate the spread of important information about the coronavirus and related news. We thought it would be a good opportunity to introduce all of the different Paywall Models available on our platform.
There are three main kinds of Paywalls:
A Hard Paywall
A Soft Paywall
A Registration Wall
A Hard Paywall is a paywall that restricts all content to paid customers only. When using a Hard Paywall configuration, there is no free content available on the site, nor is there any kind of free preview offered such as with a Metered Paywall that we'll cover below. This is a pretty standard configuration, and can quickly be adapted to a Soft Paywall if needed under certain circumstances should you ever need to offer some content for free.
A Soft Paywall refers to a paywall that offers a mix of both Paid Content and Free Access content. There are a few different kinds of setups that fall into the Soft Paywall category, each distributing paid/free content slightly differently than one another.
Soft Paywalls include:
A paywall with select categories of free content each edition (or vice versa — a mostly free site with select categories of paid content)
A paywall with select articles marked as free access, such as a breaking news article or a coronavirus update
A paywall in which recent news articles are behind the paywall, but Archives are free (or vice versa)
A Metered Paywall
A Metered Paywall is a paywall in which most, if not all, content is protected behind the paywall, but visitors are allotted a specified number of Free Views each month before they are forced to subscribe. When viewing an article, the reader is shown a bar displaying the number of free articles they have left, along with options to Login or Subscribe. The Metered Paywall is a great way to give readers a taste of the content your team produces and entice them to subscribe to unlock the rest of your articles.
Last but not least, we have the Registration Wall, which isn't actually a traditional "paywall" because the intent is not to collect money from readers. Instead, a Registration Wall requires all visitors to Create A Free Account in order to access all content on the website. While you're not immediately seeing any financial benefits from this setup, the information you collect with each registration is valuable and can be used for future marketing purposes or passed along to advertisers who'd like to target your audience.
We're happy to be able to offer so many different Paywall options, as every publication is unique and appeals to their audience in a different way. We're confident that one of the models above will work for your website.
If you're interested in utilizing one of these paywall setups, reach out to our support team at ops@our-hometown.com and we'll help you get started!