Posting Articles from Mobile Devices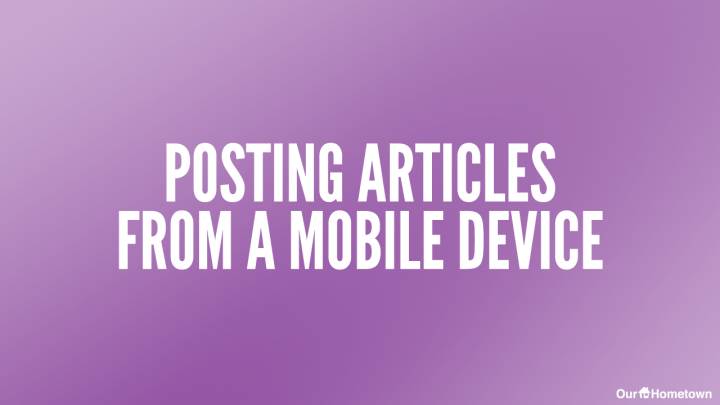 Click play to LISTEN to the article below
Our-Hometown's publishing platform includes a variety of different ways to publish your news content to the web. You can publish articles manually from your WordPress Dashboard on any computer, or take advantage of our PDF Extraction service to populate your website with content from your print edition. You can even publish content from Google Docs using our Google Docs to WordPress Plugin, or use our Multi-Site Publishing tool to transfer an existing article from another site on your network. However, one of the most requested features from this year's New Feature Survey was an improved ability to post content from cell phones and mobile devices.
Thanks to some great work by our engineers, we're now able to provide a much-improved mobile publishing experience.
Our websites are fully responsive, meaning that they are optimized for viewing on mobile phones and devices. Elements on the page will adapt to display appropriately on screens of any size. This now includes your WordPress Dashboard, which makes posting content from a mobile phone just as easy as doing it on a computer. In fact, the most difficult part about posting an Article from your mobile phone is just getting to the website and logging in to the admin panel!
In the video below, we'll show you how to quickly publish Articles on your website using a mobile device. We'll also demonstrate how you can create a shortcut to your website or dashboard on any modern smartphone, meaning your ability to publish is only ever one touch away.
You'll notice that the process of publishing an article from mobile is, for the most part, identical to doing it from a computer. That's because it does not require any special apps or plugins — all you need is a smartphone with a web browser. You are using the same dashboard that you use on a computer, only it has adjusted itself for viewing on a smaller screen. You'll find all of the same features that you find when posting from a computer, like the ability to set a featured photo or embed media in the article, and the option to mark your story as "Breaking News" — perfect for covering an emerging news stories from the field.
Don't forget to assign your article to a category!
Keep an eye out for next week's newsletter, where we'll cover creating image galleries from a mobile device!