Drive User Engagement with a "Reader's Choice" Survey!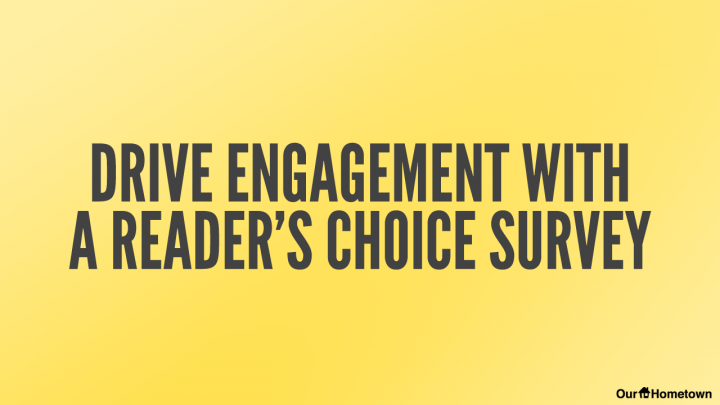 Click play to LISTEN to the article below
As a newspaper, attracting visitors to your website with worthwhile news content should always be your primary goal, but getting these users to stick around after reading the morning headlines is also important. Anytime you can get visitors to engage and interact with your website is an opportunity for revenue – the longer a user spends on the site, the more pages they'll visit and the more ads they'll view.
One great way to drive user engagement on your website is by hosting a "Reader's Choice" survey contest where readers are asked to submit a ballot listing their favorite local businesses for a number of different categories, such as "Best Restaurant" or "Best Movie Theater." Often times a prize is offered as an incentive for readers to take the time to submit their votes, and is awarded to a randomly selected ballot at the end of the voting period.
Like many newspapers, you might already be doing something similar for your print edition – but bringing the ballots online opens up a ton of new possibilities for both readers and advertisers.
You can easily create a Reader's Choice survey using the GravityForms plugin included with Our-Hometown's WordPress CMS. GravityForms includes several kinds of input fields, allowing you to customize your survey to a format that makes sense for your publication. While some papers might leave it open-ended and just use a simple Textbox for readers to write in whatever business they want, others may prefer to use Checkboxes or Radio Buttons so that readers must choose from a predetermined list.
Check out a few of these examples that our customers have hosted!
You'll want to include a few fields for the voter to enter their own contact information as well, in case their ballot is selected as the winner. If you make "Email Address" a required field and include a disclaimer that submitting the form is granting you permission to contact them via e-mail, you could also use this as a means of collecting leads for future marketing campaigns.
This type of community-oriented contest entices local businesses to get involved by running ads looking for votes from their supporters. Having the ballot hosted on your website gives these businesses a reason to run ads both in print and online. Furthermore, if any of these businesses are active on social media and want to send out a link for their readers to vote from – those clicks are going straight to your website!
If a Reader's Choice survey doesn't make sense for your community, or if you want to save it for an end-of-the-year event, you can always get creative and modify this approach for nearly any purpose. GravityForms makes creating these kinds of contests and collecting results a breeze.