Publisher Interview with The Wave of Rockaway!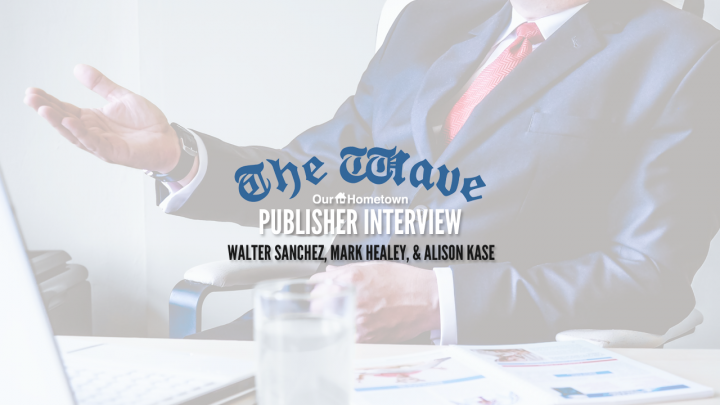 Our-Hometown CEO Matt Larson recently connected with The Wave Publisher Walter Sanchez, Editor-in-Chief Mark Healey, and Digital Editor Alison Kase for an in-depth interview centered primarily on how they've grown their digital product and outreach with the help of Our-Hometown's services.
The discussion ranged from the general importance of offering a digital product to some of the unique reader-engagement programs they've been able to offer through their website, including a Curbside Delivery Directory and accompanying sweepstakes that was launched early in the COVID-19 Pandemic as a service to their readers.
We've shared some of the highlights below!
1. Digital is Integral
In the first clip, Alison explains how they utilize the full control offered on our platform to carefully curate stories on the homepage in a consistent way that appeals to readers' interests. Previously, many subscribers who received the print edition would have little reason to visit the website. However, the digital product has exploded in popularity — perhaps faster than expected due to the COVID-19 restrictions that have kept many indoors for the past several months now — with The Wave reporting a near 2:1 increase in mobile visitors. Now, with the news easily accessible on the website at any time and enhanced with special programs and reader-engagement features, the expectation is that the digital product will become as integral to these reader as the print product. 
2. Curbside Delivery Directory
During the early stages of the COVID-19 Pandemic, The Wave launched their Curbside Delivery Directory, which acts as a resource for readers to find out which local restaurants are offering curbside delivery. They launched this Directory alongside a sweepstakes to stoke user-engagement, where a random entry will be chosen to receive a free meal from a supported restaurant of their choosing.
The project helps local businesses by featuring their curbside delivery programs; it helps the community by connecting hungry readers with restaurants that offer these programs, and also by providing a free meal to one lucky winner; and it also helps The Wave itself as website traffic and user-engagement increases. The data collected from sweepstakes entries can be useful moving forward into future projects.
The Wave has also launched a Donations program where funds collected through the website or their GoFundMe page are then distributed to businesses facing financial difficulty due to the challenges introduced by the COVID-19 Pandemic. Alison joined Matt Larson this past Friday in our latest Virtual Conference: Helping Local Businesses from Shutdown to Re-Opening to discuss this program as well as the Curbside Directory.
3. Hitting Home Runs with OHT
The Wave has been a customer with Our-Hometown since ____, and Publisher Walter Sanchez has been there since the beginning of our working relationship. While they initially utilized our PDF Extraction service, the self-service model began to make more sense after they brought Alison in to help out on the digital side. Walter was appreciative of not only the services that we offer, but how we are always researching, learning, and adapting to the newest standards for both Digital and Print publishing.
We look forward to continuing our relationship for many years to come! Thanks to The Wave team for taking the time to chat with Matt and share these ideas and this information with our other publishers. For those interested, the entire interview is available on our YouTube Channel, here.