Receiving Automatic Member Reports within MemberPress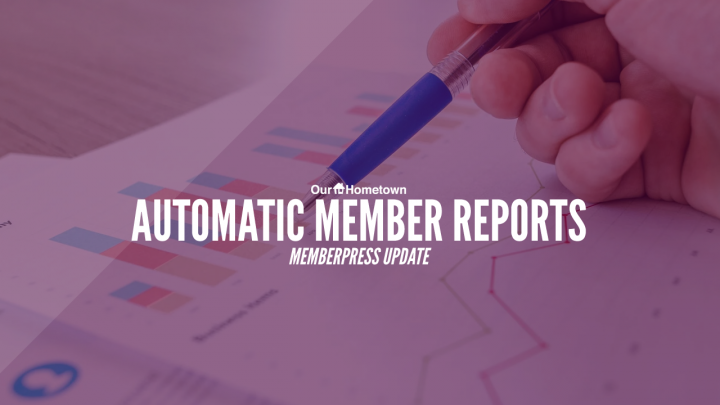 Click play to LISTEN to the article below
Managing your digital and print subscriptions is made easy using the MemberPress plugin included with Our-Hometown's WordPress platform. New subscription orders and renewals are e-mailed to your staff immediately, and an intuitive dashboard makes looking up subscriber records and recent transactions quick and painless. We've recently expanded the MemberPress functionality to include an easy-to-configure Automatic Member Report, which will send an e-mail update with a list of new subscribers on a pre-determined schedule.
The Automatic Member Report e-mail will contain a .CSV file that you can download and open in any spreadsheet software, such as Excel or OpenOffice Calc.
The spreadsheet report will include a list of subscribers and all relevant information: Username, Email, Name, Address, Start Date, End Date, Last Transaction, Subscription Type, the Payment Gateway used to process their order and whether or not any Coupons were applied to their order.
The spreadsheet can be configured to either contain All Active Subscribers on the website, or to only include New Signups Since the Last Export. When using the latter option, each time an e-mail update goes out, it will only include subscribers who are new since the last time an e-mail report was sent.
To Enable the Automatic Memberpress Reports, navigate to your WordPress Dashboard and select Memberpress -> Automatic Memberpress Reports.
This will bring you to the Settings page, where you'll find several different configuration options — the first of which being a checkbox to Enable Automatic Memberpress Reports.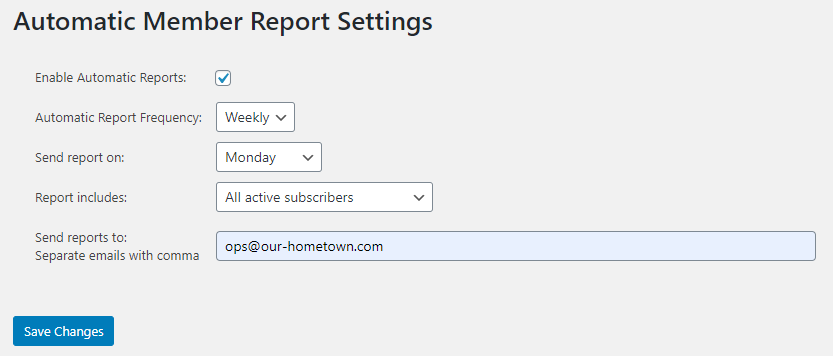 Below that, you can set the schedule that you'd like to receive reports. You'll choose whether to receive reports daily or weekly. If you choose weekly, you can choose what day of the week to receive them.
As mentioned earlier, you can also choose whether the report should include All Active Subscribers or only New Subscribers since the last time the report was sent.
Finally, there is a text box where you can enter the e-mail address(es) that should receive the report. You can enter more than one e-mail address — just use a comma to separate each address.
Once you've enabled the reports and verified your configuration settings, click Save Changes and wait for your first report to arrive!
Our system will send out new report e-mails in the early morning hours beginning around 4AM EASTERN on the day that you've selected to receive your report.
If you have any questions or need help configuring your Automatic Member Report, just drop us an e-mail at ops@our-hometown.com!