Introducing our NEW Referral Program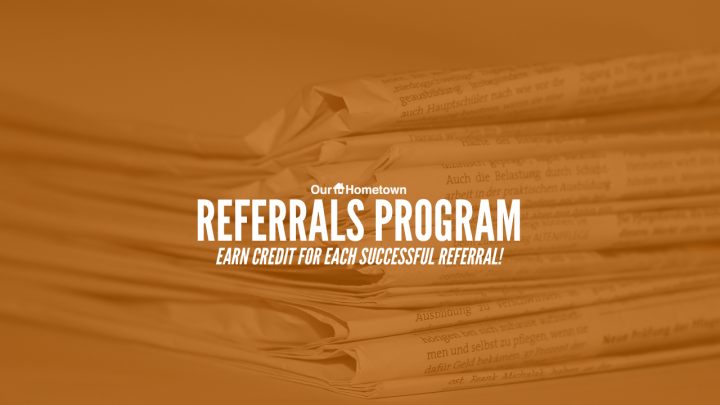 Click play to LISTEN to the article below
Our-Hometown has updated our Referral Program to provide more incentive for publishers to spread the word about our service! We know that our collection of features and software can help any publication looking to expand their digital footprint, and we're confident that any publisher who takes the time to learn what our platform has to offer will agree.
Under our new Referral Program, any current customer that refers us to another publication will be eligible for a $500 Credit should that publication sign a contract with us. That's $500 per successful referral, and the credit can be used towards your current monthly balance or to explore additional features, such as launching an iOS or Android Application. How you use the credit is entirely up to you; so if you have any contacts in the industry who may be in need of a new website, now is the time to speak up and recommend Our-Hometown!
Customers who own or manage other publications outside of our platform can include those publications as referrals. Each publication that moves to our service will result in a $500 credit. If you've been considering re-organizing your network and getting all of your websites on the same platform, you may never find an opportunity to do it for less!
In order to submit a referral, simply fill out the form on our Referral Program page with the name, website, and contact information for the publication you had in mind. We'll reach out to gauge their interest and offer to set up a prototype that they can use to try out our software first-hand.  If they like what they see and decide to move to our service, you'll be notified of your $500 credit.
If you have any questions, reach out to our support team at ops@our-hometown.com!