Registering your publication with Facebook News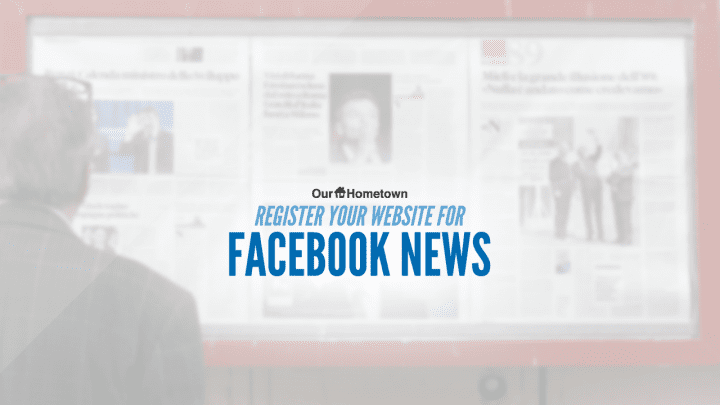 Click play to LISTEN to the article below
Facebook has long established itself as a powerful vessel for sharing news and information on the web, but their relatively new News tab takes the focus on journalism to the next level with a page fully dedicated to highly relevant news content from reputable publishers across the country, tailored to meet the reader's interests and locale. You can read more about Facebook News and how it works here.
As a newspaper publisher, having your content distributed this way by Facebook could mean a big boost in traffic to your website, ultimately resulting in more revenue for your publication. Unfortunately, in most cases, your content won't just magically start appearing on Facebook News — you'll need to manually register your News Page to be included.
Prerequisites
Before you can register your News Page, you first must have a page for your business on Facebook. It's probably a no brainer in today's digital age, but if you don't already have a Facebook page for your newspaper, start by creating one.
Once you have a page created, you'll need to register that page as a business. In order to do so, navigate to Facebook Business and click "Create An Account" to create your Business Manager account — don't worry, it's free!
In order to confirm your identity and prove to Facebook that you actually own the business you're registering, you may be asked to Verify Your Domain and Verify Your Business.
Verifying your domain essentially requires you to add a piece of code to your website, which Facebook will then look for. We'll likely need to help you with this step; so just reach out to us at ops@our-hometown.com with the code you've been prompted to add to your header.
Verifying your business is a little more varied, but you'll be asked to enter various business details and confirm ownership of your domain. Facebook may follow up to request additional details.
Submitting to Facebook News
Once you've registered your publication's Facebook page as a business with a Business Manager account, you're ready to submit your page to Facebook News.
Inside the Business Manager, any user with Admin access to a page will see the News Pages option listed on the "Registrations" tab under Business Settings.
If you've already verified your business and domain, you'll be able to begin the registration process for each page listed here.
Facebook has provided Registration Guidelines you can follow to ensure the best results from your submitted news pages. They've also put together a brief Frequently Asked Questions (FAQ) page where you can learn more about the Facebook News program.
As always, our support team is here to help every step of the way should you get stuck! Just reach out to us at ops@our-hometown.com if you need help verifying your domain, or with any part of the Facebook News registration process!