Kevin Slimp: Advanced Photoshop for Newspaper Editors, Photographers & Designers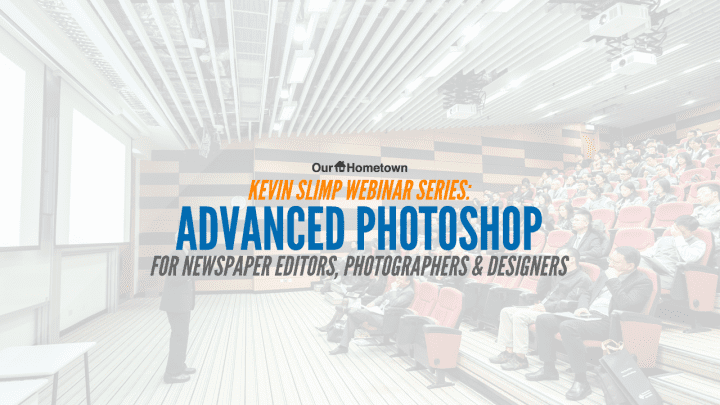 Click play to LISTEN to the article below
The first in a series of webinars hosted by "The News Guru" Kevin Slimp and brought to our customers free of charge by Our-Hometown is scheduled for Friday, March 19th at 11am EST and will focus on Advanced Photoshop for Newspaper Editors, Photographers & Designers.
"No one knows more about photo editing and color correction for newspapers than Kevin Slimp, who has been teaching newspapers the best methods for photo editing since 1994. Join Kevin for this 90 minute webinar as he teaches both basic and advanced skills to make your photos pop right off the page! They don't call Kevin the News Guru for nothing. This webinar is great for both novice and experienced photo editors." – NewspaperAcademy.com
Some of the items covered during this session include:
Getting your reds red and your blues blue
Making your photos pop off the page, instead of dark, muddy images
Creating Actions to speed up your productivity
Getting skin tones to come our right
Setting the perfect resolution, dot gain and individual color settings in Photoshop
And much more!
This session alone is valued at $89 and is part of a much bigger package being offered exclusively to Our-Hometown customers at no cost. To take advantage of this incredible offer, simply use the link below and fill out the form to register for the LIVE sessions you and your staff are interested in attending.
You'll be asked a couple of very short questions about your newspaper's workflow before we collect a list of staff emails that you want to receive invites to the webinar(s)!
Click "Full Schedule" below for a FULL LIST of Kevin's webinars that are available for free to Our-Hometown customers, or click "Register Now" to jump straight to the registration page!
Register Now!
Full Schedule