Second Street Summit – "Building a Better Email Program"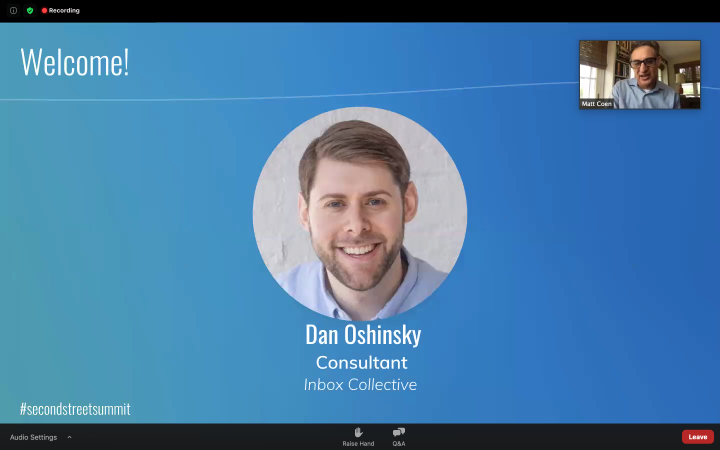 Second Street is running a virtual summit this week focused on the topic of email newsletters.
https://summit.secondstreet.com/schedule/
See below for some of the ideas that stood out to us:
Session 1
June 9 at 1pm EST
"Building a Better Email Program: How to Use Newsletters to Drive Relationships and Revenue"
Dan Oshinsky
dan@inboxcollective.com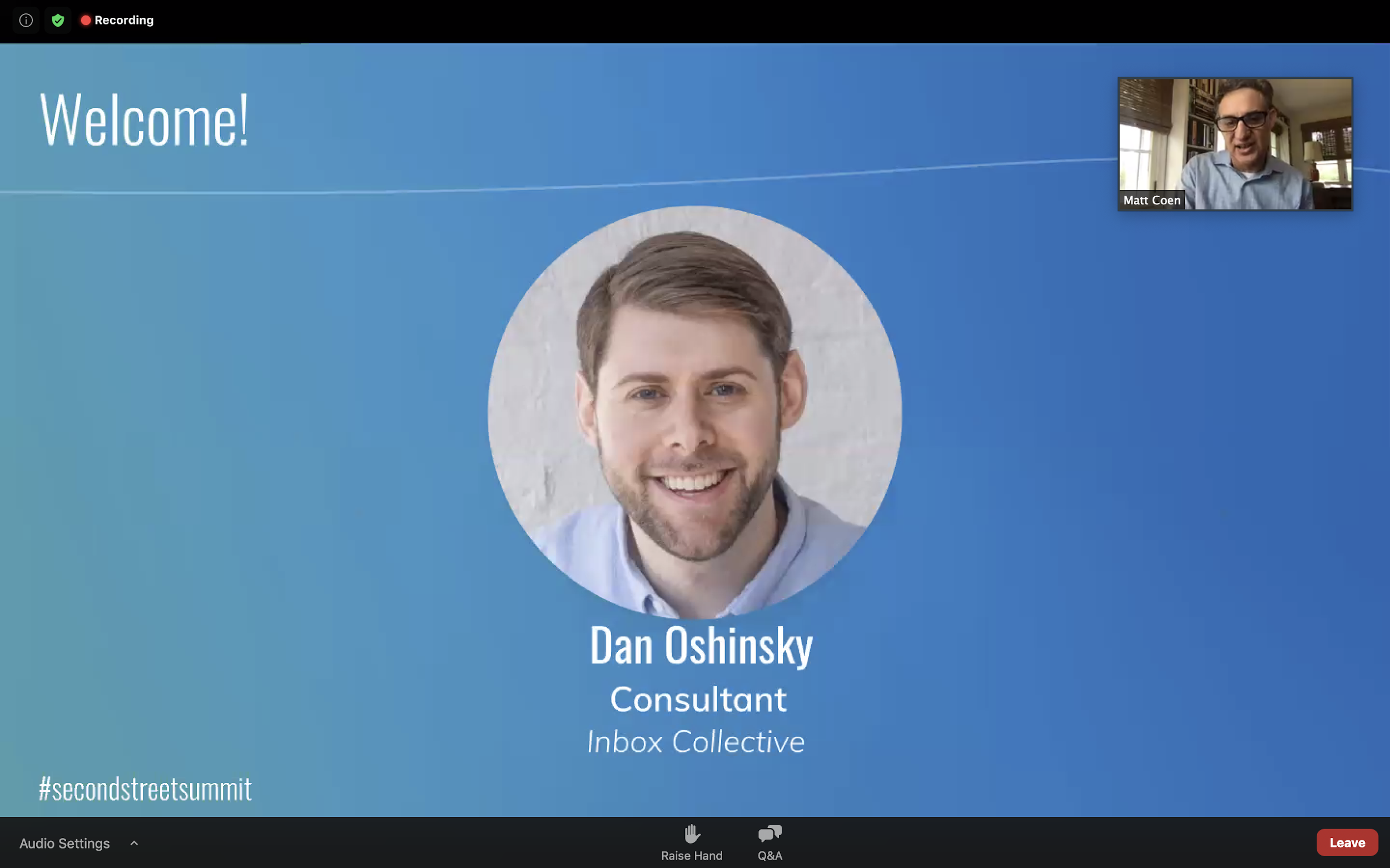 Live notes:
Why Email Works
Email is a place to engage and start a 1 to 1 conversation
Drives revenue for converting readers to paying subscribers.
Additional revenue through newsletter sponsorship, affiliate partnerships, or ticket sales.
Ways to Grow you lists
Sign up pages
Pop ups
Modules in your navigation or footer
In Article promotions
Banners or alerts
Social Media Promotions
Remnant Ad inventory
Paid Acquisition ($1 per email address)
Engagement + Capture
Engage reader around a topic or issue they care about (News Quizzes, Games, Polls)
Showcase the value of your work
Then ask them to sign up for a relevant newsletter
Brackets
Let people vote on best restaurant
Follow up for them to sign up for newsletter
Contests
Partnership with a local business
Enter to win gift card from local business for newsletter sign up
Surveys
Lead generation tool
Good thing for editorial to get feedback on coverage
"What stories do you want to see covered this month", provide a list
Email sign up
Rules for Successful Newsletters
Relationships come first. Deliver on your promises (follow through on newsletter schedule). Ask readers questions and follow up with answers. Be respectful of their space and thoughtful with your interactions.
Meet the moment. Re-evaluate your newsletters on a month-to-month (or even week-to-week) basis. Be willing to adjust the content or timing of a newsletter. What do readers need to hear from you right now? What do they have questions about?

Weekender newsletter planned to launch preCOVID. They turned it into a Series on Gardening and other family activities at home.
UTAH Eats was about going out to eat. Pivoted to cooking, groceries, and what restaurants are opening.

Start with a building block. Identity (who you are, what you care about). Service (content and stories you want more of). Utility (content and stories you need more of). Personality (newsletters build around a specific voice).
Onboarding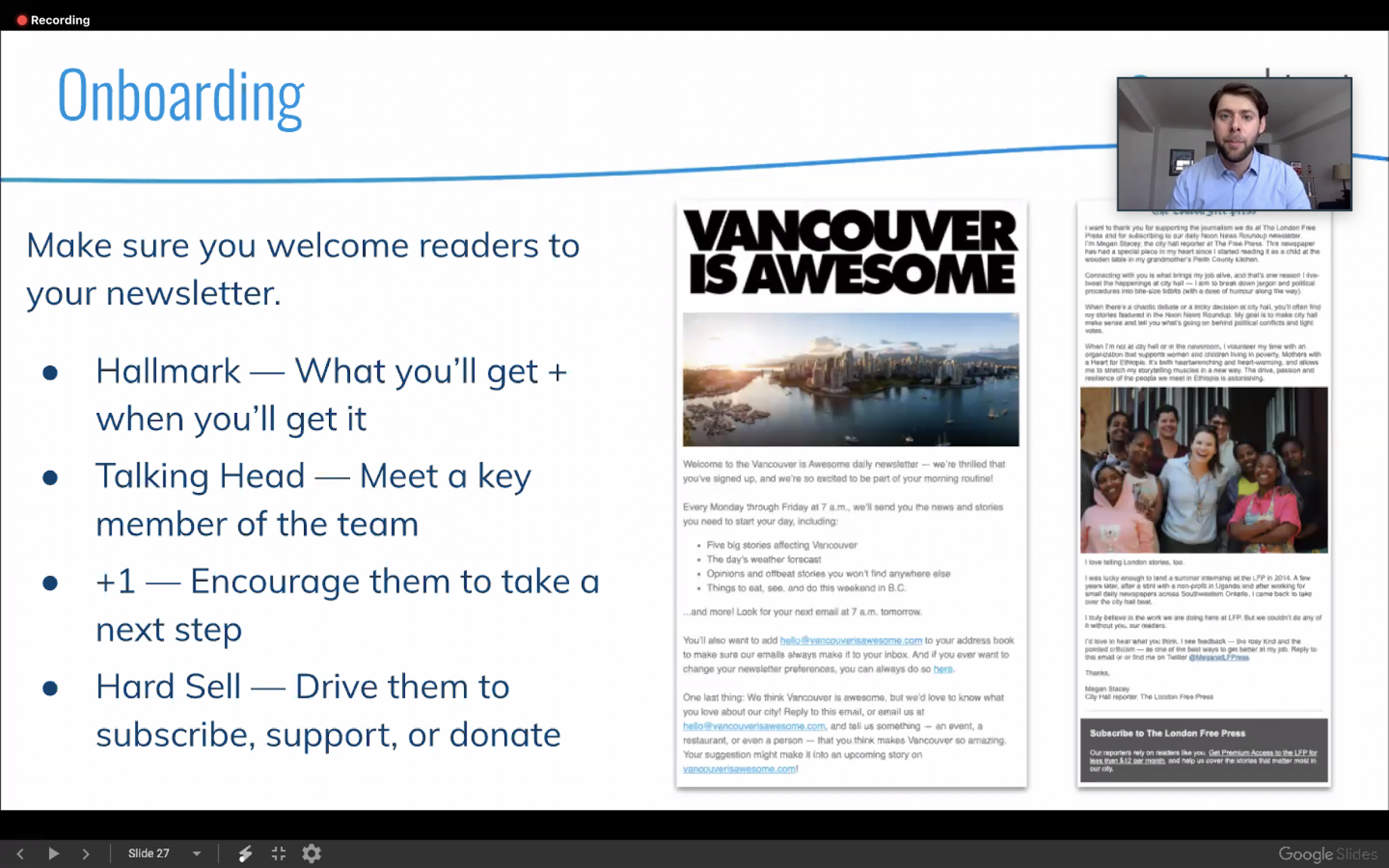 Engage with your readers
Ask questions and answer questions from previous days
Getting readers to reply to your newsletters can improve your placement in the inbox!!!
"Placement" meaning getting into the "Primary" tab and not the "Promotions" tab on Gmail.