Share an Article with your Mailing List in just one click!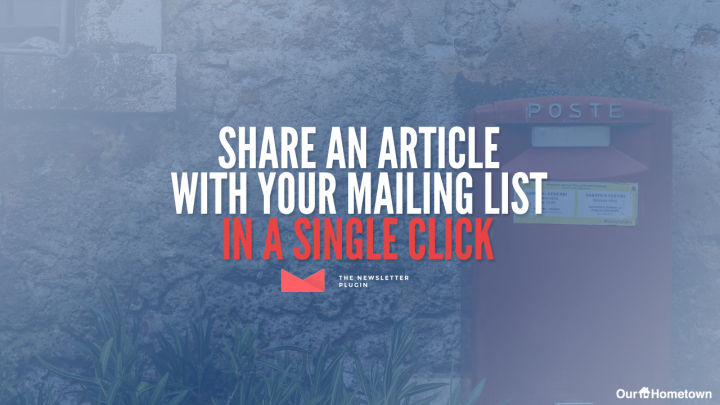 Click play to LISTEN to the article below
The Newsletter plugin included with Our-Hometown's WordPress CMS comes jam-packed with features to help you create stylish custom newsletters and send them to organized lists of your subscribers. One of those features is the Broadcast option, which allows you to immediately share any article published on your website with all of your newsletter subscribers with a single click!
If you're covering "Breaking News" or a story of significant importance, this tool can be extremely useful. This type of news is often timely, and you'll want to get the information out to your readers as quickly as possible rather than waiting to feature the story in your regularly-scheduled weekly newsletter.

After you've published an Article on your website, navigate to the Edit Article page and begin scrolling down to the various boxes of options available. These boxes can be re-arranged to your preference, but by default you'll be able to find the Broadcast Options box in the right-hand column above the Featured Image box.
Inside the Broadcast Options box is a clickable hyperlink that reads, "Share via Email Newsletter."
Clicking this link will automatically create a new newsletter featuring the article and immediately begin sending it to your newsletter mailing list. You will not be able to preview the newsletter before it is sent. This tool assumes that you've already configured your OHT Newsletter settings to include your site logo and your preferred subject line. If you need help adjusting these settings before you broadcast your first article, contact ops@our-hometown.com!
Once an article has been shared to your mailing list, your subscribers will receive an e-mail including the Article's title as a link to the article, along with the featured image and an excerpt from the story. By default, the subject line will read: "News Update from [Site Name]!"
This feature saves you the trouble of creating a newsletter from scratch and adding text and images to link to your article each time you need to share an article with your subscribers. Everything is handled automatically with a singe click, making getting the news out to your readers quick and easy!