Software Updates – Adjustable Zoom on PDF eEdition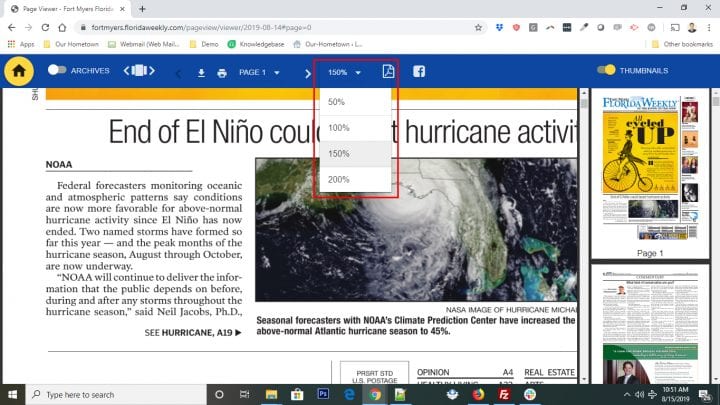 Our engineers have been working hard all summer to deliver new features and improve functionality throughout our websites. While we've introduced some major software updates this year, recently we rolled out an update to enhance existing features based on feedback from our customers.
Software Update: Adjustable Zoom on PDF eEdition
Our PDF viewer displays the e-edition at 100% zoom by default. For most machines, this works well and allows the reader plenty of screen room to view and read the content. However, we did receive feedback from a few customers who noticed that older machines with lower resolutions struggled to display the e-edition in way that was readable. The content often appeared much too large for the screen and would require constant scrolling to read an article. In other cases, the opposite was true, and readers found the content much too small to be legible.
Both problems are solved by the introduction of Adjustable Zoom. Now, the PDF Viewer has a Zoom % dropdown box, allowing readers to select the zoom level of the document. While 100% remains the default, you can zoom out to 50%, or zoom in to 150% or 200% based on reader preference.
Although the update may be considered relatively minor in the grand scheme of things, it is a testament to the great work our developers put in year-round – not only to create brand new tools to help strengthen our service, but also to improve, enhance, and build upon our existing catalog of features.