Advertising Highlights: Delivering Ad Reports, new features, and Friends2Follow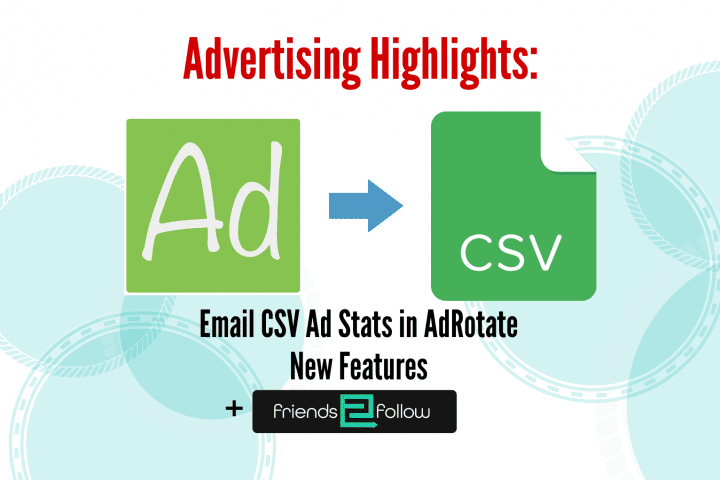 At Our-Hometown, we are always researching, developing and implementing new ways to benefit our customers' advertisers, thereby benefiting our customers themselves. This week, we're going to highlight a few recent updates we've made, as well as some standard methods to add value to advertisers on our websites.
1. E-mail CSV Stat Reports (AdRotate)
When advertisers run a campaign on your website, they likely expect a report highlighting the performance of their ads. You should deliver a report to your advertisers at least monthly. Luckily, you can do this easily within AdRotate Pro – just select a date range and type in an e-mail address that should receive the stats, then send the report!
[ Learn More ]:
https://our-hometown.com/docs/adrotate-email-csv-stat-reports/
2. Linking PDF Ads to Advertiser Website
We have now implemented full ad functionality to display ads that appear in your PDF eEdition.* Clicking a display ad in the PDF eEdition can now direct readers directly to that advertisers website, opened in a new window so that the reader remains on your own site as well. Impressions and clicks are tracked accordingly for all display ads in the PDF eEdition.
* You must be utilizing our ad extraction service in order for ad functionality to apply to ads in the PDF eEdition.
3. Click-to-Dial Advertiser Phone Numbers
Advertiser and Business Profiles with a phone number entered will now display a the phone number as a clickable link. Tapping the number on a mobile device will begin calling the business, while clicking the link on a desktop computer will initiate a call with Skype or other online phone services.
4. Friends 2 Follow
Friends to Follow is a third-party service that aggregates your social media feed along with content from your advertisers and other friendly businesses that you connect with all into one widget that we can embed on your homepage. Make the most of your social media content and reach new advertisers.
Check out Friends2Follow in action on JournalTrib.com!
[ Visit Friends2Follow ] :
https://friends2follow.com/
[ Learn More ] :
https://our-hometown.com/docs/friends2follow/