Starting a Podcast: Publisher Interview with Tom Lappas of the Henrico Citizen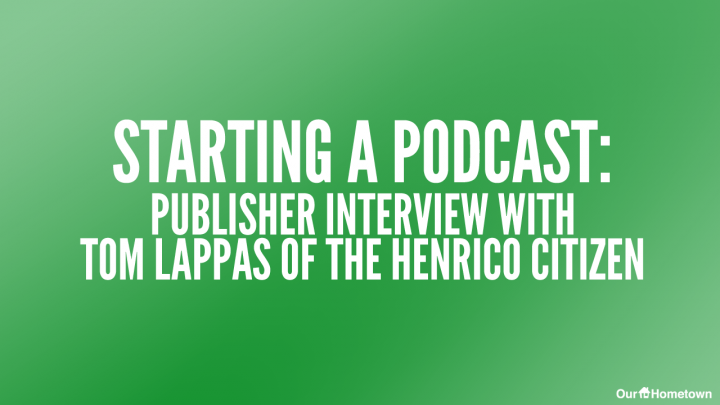 Click play to LISTEN to the article below
It has been clear for some time that digital journalism is king in today's world, but the COVID-19 outbreak has really accelerated the need for many publishers to adapt — and that doesn't just mean updating their websites more frequently. In order to truly adapt, you need to take advantage of all the different kinds of digital media available online and leverage it to generate new readers, new advertisers, and ultimately, new revenue.
One effective, low-cost way to expand your presence online is to launch a podcast.
Our-Hometown CEO Matt Larson recently connected with Tom Lappas of the Henrico Citizen, who started producing the Henrico News Minute podcast last fall, to discuss their foray into podcasting. With help from Tom, we've provided some tips on getting started and other general information below.
Getting Started
Starting a podcast may seem like a daunting task that requires a large time commitment, and for a lot of publishers, this might be the main reason why you haven't already started one. Tom felt this way, too, but even he was surprised at how easy it was to get setup. He mentions that he was able to pick up some basic podcasting equipment for cheap during a Black Friday sale, but depending on the vision you have for your podcast, you probably don't have to wait until November — a small one-or-two person production requires little more than a couple of microphones, an audio interface, and a computer to record with.
The Henrico Citizen staff already uses Apple Macintosh computers, which come with the audio-editing software Garage Band pre-installed.
Choosing a Format
Traditionally, when people think of podcasts, they probably think of a lengthy, in-depth conversation around a particular topic or idea. For some, that is a turnoff — not everybody has the time to sit down and listen to an hour-long podcast. While certainly that model can work for some, it may not make as much sense for a local newspaper.
Tom has taken a completely different approach with the Henrico News Minute, marketing it as a short five-minute listen akin to the hourly ad-reads or weather updates you'll hear on the radio. They record a brief segment every morning, touching on the day's news and also highlighting any ongoing community events.
Choosing a Podcasting Service
Now that you've chosen a format and recorded your first episode, it's time to upload it to the web and share it with your listeners. In order to do that, you'll need to register with a podcasting service that handles hosting of the audio and distribution to numerous streaming platforms.
A few examples to check out, as recommended by our customers, are listed below:
BuzzSprout: https://www.buzzsprout.com/
PodBean: https://www.podbean.com/
SoundCloud: https://soundcloud.com/
Most hosts will allow you to embed your podcast player directly into your existing website so that you can display it in a prominent position where it will get viewers attention, or on a dedicated page backed up with extra information about the podcast.
How much will all of this cost?
You're probably wondering is, "how much is this going to cost?"
Not surprisingly, your main expense will be the equipment that you need to get your idea up and running. Again, this will vary depending on the scope of your podcast, but equipment for a small one-or-two person production should be quite affordable. You'll just need a couple of microphones, an audio interface, and a computer to record with. You could even go super-low-budget and simply use your cell phone to record and upload audio.
Podcast services like the aforementioned BuzzSprout, PodBean or SoundCloud allow you to upload and host your podcast at no charge, with certain limitations on each service ranging from the length of each podcast to the the total filesize. These providers will allow you to share your podcast over popular streaming services like Apple Podcast and Spotify as well.
While most services will offer an upgraded Premium plan, you should be able to get your podcast off the ground without any monthly cost.
What's Next?
Start recording!
The most important part of growing a podcast from the ground up is to be consistent. You want to produce content as often as you're able to, but you want to avoid a situation where one month you release several episodes, and then watch your listener count fall off the following month because you only had time to produce one episode. Come up with a schedule that works well for your staff and audience, and stick to it.
From there, the sky is the limit and how you market the content is up to you. To grow your listener count, it makes sense to offer your podcast for free and list it on Spotifty, Apple Podcasts, Google Podcasts, and other popular podcast directories — but you could get creative and experiment with things like offering early-access to paid subscribers before releasing each episode to the public a few days later.
If you build a strong listener base, it will be easy to recruit Sponsors for your Podcast. Tom mentions that during the early stages of his podcast, he has featured some of his larger clients as episode sponsors as an act of goodwill, but will eventually move to monetize these sponsorships for additional revenue.
If you have any questions or need further support on this topic, feel free to reach out to our support team by e-mailing ops@our-hometown.com anytime!
Check out some examples from our customers who are currently producing Podcasts on their website:
The Henrico Citizen's "Henrico News Minute": https://www.henricocitizen.com/
The Acorn's "Branching Out" Podcast: https://www.theacorn.com/