Submit your news to Apple News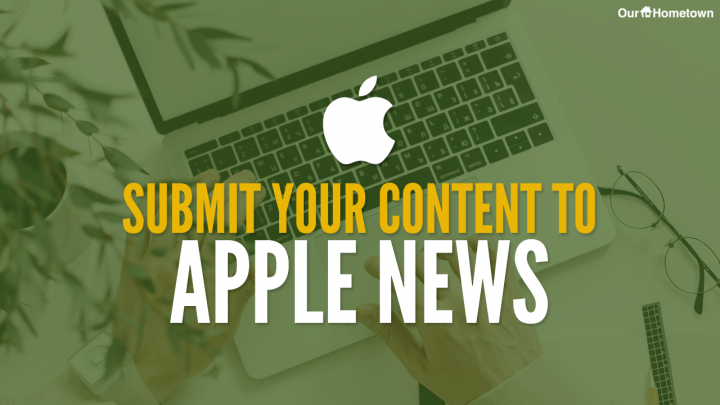 Click play to LISTEN to the article below
A powerful way to expand your newspaper's reach beyond your community and local readers is to submit your content to news aggregate platforms like Apple News and Google News, who will redistribute it across their networks of users. This can help improve your publication's search engine rankings and web traffic, which in turn can help increase your advertising revenue. We wrote a post about How to Appear in Google News last summer, and we'll go over how to set up your site for inclusion in Apple News below.
The 'Publish to Apple News' plugin enables WordPress sites with approved Apple News channels to publish content directly on Apple News.
Features include:
Convert your WordPress content into Apple News format automatically.
Create a custom design for your Apple News content with no programming knowledge required.
Automatically or manually publish posts from WordPress to Apple News.
Control individual posts with options to publish, update, or delete.
Publish individual posts or in bulk.
Handles image galleries and popular embeds like YouTube and Vimeo that are supported by Apple News.
Automatically adjust advertisement settings.
To enable content from your WordPress site to be published to your Apple News channel, you must obtain and enter Apple News API credentials from Apple.
1. Register as an Apple News Publisher
The first thing you'll need to do (if you haven't already) is Register as a Publisher with Apple News.
On this page, you'll be asked to login with your existing Apple ID or create a new one if you don't already have one.
(Note from Apple: The Apple ID you sign in with may or may not be your personal Apple ID. If you're the sole publisher, you may want to use your personal Apple ID rather than create a new one just for publishing. However, if you're part of a team—publishing content from a magazine or news site, for example—you should use an Apple ID created specifically for publishing to avoid mixing personal and business data.)
Once logged in, you'll need to enter a channel name, upload a logo, and enter your contact information & details.
Apple has documentation available for completing this part of the process.
2. Enabling the Apple News API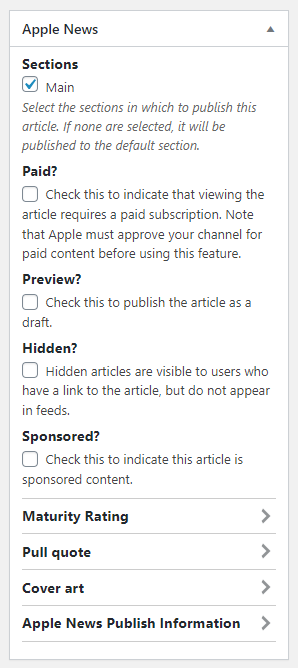 Once you've registered as an Apple News Publisher, you'll be given a Channel ID and some API Keys that we can use to link your website with your Apple News Publisher account to easily submit new articles.
Please contact Our-Hometown's Support Team to enable the Apple News Plugin, and provide us with your Channel ID, the API Key and the Secret Key so that we can fill out the appropriate settings in the plugin.
Once the Apple News plugin is enabled, it can be set up to automatically submit all new Articles to Apple News, or you can manually submit only articles that you choose by marking a checkbox in the Article Editor. You'll also find a handy new Apple News menu in the editor that includes options for publishing the article as Paid, Hidden, or Sponsored, along with settings for Maturity Rating, Cover Art, and Pull Quotes.
3. Submitting for Approval
Once you're registered as a Publisher with Apple News and the Apple News plugin is configured on your website, you'll need to submit your account for approval by Apple before your content will begin appearing on Apple News. You'll need to submit at least three articles to Apple before they will approve your account.
Select at least three articles from your website and submit them to Apple News.
Once you've submitted three articles from your website, log back into your Apple News Publisher account page and click the "Submit for Approval" button to begin the process.
It may take several days for Apple to approve your account, but once they've done so, your content will begin appearing in the Apple News feeds.
If you have any questions or need any help getting started, e-mail ops@our-hometown.com at any time.