The Impact of a Paywall on Website Traffic
A question many publishers have before delving into digital subscriptions is how it will impact their website traffic (i.e. their digital advertising revenue).
The pageviews and visitors will likely decrease, but the question is how much.
We have data from the Clark County Democrat of Alabama, which launched a paywall in July 2011.  Below is a graph of the impact on unique visitor traffic to the site.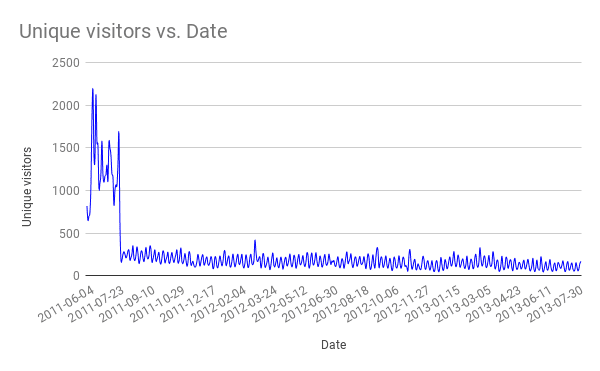 The first month we launched the paywall, traffic to the website dropped 85%. It was a bit shocking, but understandable given the hard paywall.
Traffic remains stable from this newpaper's core audience at approximately 15% of the June 2011 traffic.
What kind of revenue do other publishers generate?
This will depend on many factors, but in this case, the publisher was charging $52 for an annual print subscription.  We matched the pricing for the digital subscription and saw the annual revenue stabilize around $3000.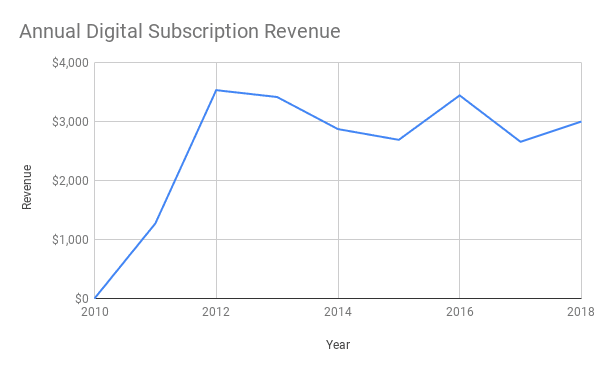 What are some strategies for increasing subscriptions?
You've got a big opportunity when you launch a new website with the paywall.
Whether you are a new Our Hometown customer, or upgrading your site to WordPress, the website launch is critical to establishing value in the eyes of current and potential subscribers.
We recommend you offer the website content free for one month to anyone who registers for the weekly newsletter.  This allows readers to experience the new product before making a decision.
To provide extra incentive to act now, you could offer a 10% discount on all 1 year subscriptions ordered before the end of the free promo month (this is done with a coupon code that you can create yourself in MemberPress).
We will be launching the Clark County Democrat on the new WordPress platform this fall and simultaneously increasing the subscription price to $78/year.  Again, the question is not whether we will lose subscribers, (we know we will lose a few), the question is what will the impact be on total revenue?  Our bet is that most of the subscribers will stay, which will convert to a significant increase in total digital subscription revenue.
Converting Leads to Paying Subscribers
The ongoing strategy is to promote digital subscriptions to anyone on the newsletter list that is not a paying subscriber.
The metered paywall continues to drive registrations, which allows us to grow the list of leads we market to with the weekly newsletter.
We can segment the newsletters so that your paying subscribers see ads from local businesses, while the nonpaying newsletter recipients see special offers for digital subscriptions.