Akron.com re-launches with Our Hometown!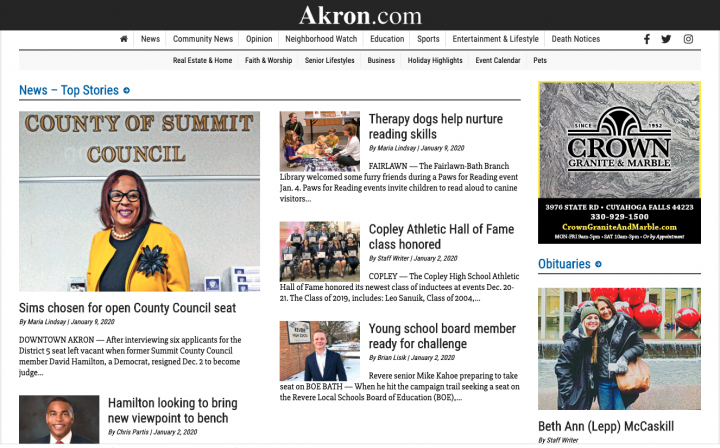 Our Hometown is happy to welcome the newest member to our publishing family, Akron.com!
Akron.com is home to two Ohio-based publications, the South Side News Leader and the West Side Leader, covering several Akron neighborhoods and surrounding communities while reporting on local news, government, entertainment, and high school & youth sports. They recently decided to migrate to our service to implement a new responsive design with a modern look, and to take advantage of our reservoir of cutting-edge tools & features.
Akron.com utilizes many of these features, including our Reader Resources bundle to support their Online Classifieds, Event Calendar, and Pickup Locations map.
The Online Classifieds section displays all classified ads from the print edition, and allows readers to submit paid classified ads directly from the website. Likewise, the Event Calendar allows readers to submit their own events to the calendar, where they can be approved by Akron's editorial staff as needed.
22986
true
false
true
false
true
true
false
auto
false
ease-in-out
100
auto
false
0
false
false
Previous (Left arrow key)
Next (Right arrow key)
%curr% of %total%
Readers are also able to subscribe to the print edition of either publication right from the website, and can use our powerful custom-created GravityForms to submit Letters to the Editor, Wedding/Engagement/Birth Announcements, and Press Releases.
Like all of our sites, Akron.com's responsive design automatically adjusts depending on the size of the viewing device the reader is using, making sure to give a great first impression to their mobile and tablet visitors.
Take a look at the great content they are delivering with help from Our-Hometown: Visit Akron.com!