An optimized mobile experience at Our-Hometown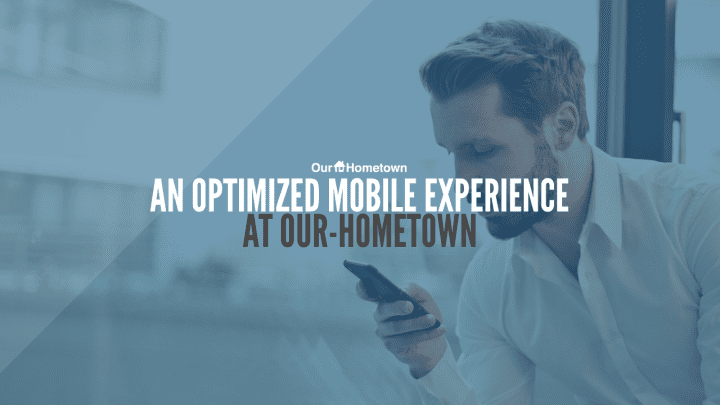 Click play to LISTEN to the article below
If you work in the newspaper industry, you're probably already aware that most web traffic is now coming from mobile devices. The switch to mobile has been an internet-wide trend throughout the 2010s. However, our latest statistics show just how dramatic this shift has been over even the past couple of years.
According to our platform-wide statistics, in 2018, our websites saw nearly 80% of online traffic coming from traditional desktop computers, with only 8% coming from mobile devices & smartphones, and another 12% coming from tablets or other in-between devices.
Fast-forward to today. Last year, in 2020, our websites had just 34% of online traffic come from traditional desktop computers, while a whopping 60% came from mobile devices and smartphones. A mere 6% came from tablets or other in-between devices.
This dramatic shift really drives home the importance of making sure your website is presentable on mobile devices. Fortunately, Our-Hometown has you covered in that respect!
1. Mobile Responsive Websites
All of our websites are "Mobile Responsive" by default, meaning that they automatically adapt to display efficiently on whatever device is being used by the reader.
For example, a website that uses a "2-column" article widget and traditionally shows two columns of articles side-by-side on desktop would instead show just a single column of articles on mobile.
Showing them side by side would make it difficult to read and click on the stories, but our mobile responsive layouts make this adjustment automatically for screens of a certain size.
2. Mobile Advertisements
The advertisement management plugin included with our platform, AdRotate Pro, allows you to create groups of ads that are only visible to either mobile or desktop. This allows you to create two different graphics if desired — one that is large and appealing on desktop, and another condensed version that is more appealing on mobile devices.
Additionally, most ad networks use ads that automatically re-size themselves on mobile, much in the same way that our website layouts do.
3. Responsive Dashboards
Admittedly, the most important thing when it comes to working with responsive layouts is to make sure the "front end" — in other words, the parts of the website that readers and visitors see — looks crisp and clean on all devices.
However, it is also important to make sure the Admin Dashboard is adapted for mobile so that your staff is able to easily manage and maintain the website from the palm of their hand.
Our engineers have made several tweaks over the past few years to make the admin dashboard more mobile-friendly.
4. iOS and Android Applications
Our-Hometown, Inc. also offers custom-made iOS and Android Applications for newspapers on our platform! Given the mobile traffic numbers, a mobile application seems like a no-brainer!
If you think your readers could benefit from a downloadable mobile application, click here to learn more about our iOS and Android Apps.
We're always looking for ways to improve our platform, both on desktop and mobile; so if you have any suggestions or complaints, drop us a line at ops@our-hometown.com and we'll address your concerns as soon as possible!