Announcement: GDPR Privacy Policy Popup will be activated platform-wide on September 1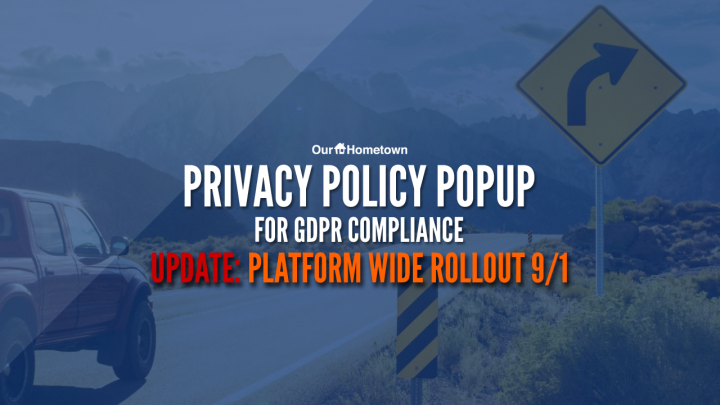 Click play to LISTEN to the article below
Last month, we introduced our new Privacy Policy Popup feature to help websites on our platform comply with GDPR and CCPA Regulations. This feature enables a popup that displays when readers visit the site for the first time, prompting them to read and accept your Privacy Policy in order to close the popup and continue using your website. Similar popups now exist on many of the most popular sites on the web as forcing users to agree to your policy upfront has become a standard practice. For this reason, we will be automatically enabling the Privacy Policy Popup on ALL WEBSITES ON OUR PLATFORM on September 1st, 2020.
If you are not already using the Privacy Policy Popup feature, your popup will be configured using a generic color scheme and positioned at the bottom of your site. Remember, readers won't be seeing this popup very often: it only appears the first time they visit the site, and then once every 30 days or as their browser cookies expire thereafter.
However, the colors can be fully customized to match your website's existing color scheme, along with the message text and button labels that display on the popup, through the Settings -> Cookie Notice link on your admin dashboard. Feel free to ask our support team for help adjusting colors or changing the style of the popup.
"What do I need to do," you ask?
In the majority of cases, no further action will be required by your staff. As a customer of Our-Hometown, this feature will be automatically enabled on your website on September 1st and should work just fine "out of the box" with an Accept button and a link to your Privacy Policy page.
However, this feature does require that your website has a Privacy Policy page published and updated with your website's specifics. If for some reason your website does not already have a Privacy Policy page set up, or you are unsure, please reach out to our support team for help creating one before September 1st!
To contact our support team, send an email to ops@our-hometown.com at any time and our staff will respond promptly!